The truth, the whole truth and nothing but the truth 2020
In which I try to write something new every day for a change....
Monday January 1st:
Happy new year. I spent an amount of today with my band*, firstly finishing off our sold-out New Year's Eve gig in Lostock. Then we all went home, got a bit of sleep and then we were all back out again and off to Tyldesley to do the jam night, which lasted 4 hours, finishing at 10pm. We are value for money.
New Year's Day is usually a day at home with family for most people, but my lot don't seem to do family stuff at Christmas. I don't like Christmas-time and if I could go away every year and ignore it, I really would. I have been away to Egypt and Austria over Christmas and both trips were superb. When I am not in a band anymore, I am going to make sure that I go away over Christmas every year and avoid it all. The best Christmas I've had at home for a few years was - bizarrely - when we had had a power cut for a few days and my son Paul (who was living with us at the time) was there with us as we struggled to get through it was given the choice of going elsewhere, where it wouldn't have been so makeshift. He stayed here with us. I love him for that. Rachel always goes to her mum's on Christmas Day, without exception. We work around it.
*I say 'my band' but I am one third of it.
---
Thursday January 2nd:
Today, after several attempts over the last week, I managed to get to Bolton tip to get rid of a load of cardboard. Everyone in Bolton seems to have had the same idea for the last week or so. I was greeted at the tip by the lovely chap (Reluctant John) who gets up at our jam night to do an Elvis song. A nice suprise.
---
Friday January 3rd:
The ridiculous seasonal workload of the band has taken its toll on Ian, our guitarist. He has arranged cover for the jam, as he is exhausted. He's working full-time as well as doing all of the gigs, so it is no wonder he is worn out. Christmas and New Year were very tiring.
---
Saturday January 4th:
The Bank Top Tavern, Oldham. I was feeling knackered in the run up to the set. I was so utterly dog-tired that, when we sound-checked with Are you ready? by Thin Lizzy, I had trouble even getting the bass rhythm to feel right. The crowd thickened up a bit for when our gig started and I got a bit of adrenalin from somewhere.
---
Sunday January 5th:
As mentioned, Ian, our guitarist, wasn't at the jam today, so we had the pleasure of playing with Steve Mulvaney, the excellent guitarist I was in The Kerbcrawlers with. I put him to the test on a number of songs (that I pretty much dropped on him out of the blue) and he did brilliantly well, considering how long it had been since we played some of them. Versions of Alice and Sylvia's Mother were included, seeing as Alice is definitely expected. I was told that I did Alice very well. A good evening.
As I type, I am, co-incidentally, listening to a live recording of The Kerbcrawlers at the Town Hall in Eccles from May 2005. We were a good little band.
---
Monday January 6th:
Out of bed very late. Exhausted. An evening of TV. Dracula.
---
Tuesday January 7th:
Out of bed very late. Exhausted. Spent the afternoon doing some serious writing for a book. I also edited another photobook that I am working on a little. More Dracula in the evening.
---
Wednesday January 8th:
Not one of my best days.
Alan Mosiezny's funeral at Radcliffe Crematorium. Nice weather for it, but I sat at the back in the crem, close to tears. His lovely wife Sue, spoke very fondly of his love for his family and their love for him, enduring his love for aircraft, amongst other things from all of their years together. She showed great strength and love to do that for him.
Some years ago, Alan joined a secret society with codes and odd handshakes - DWP.

I first met Alan when we both trained on Jobseekers Allowance at the old Bury office some years ago. He was a brand new entrant and I had just gone from working on IT support to paying benefits, after managing really well to avoid it for many years. We both struggled with the training and supported each other through it all and afterwards. We became good mates and socialised a bit outside work, when he came to my gigs and we went to the pub at lunchtime at the drop of a hat.
Alan was always the most patient and easy going fella. He saw the best in everyone and, when Alan was put on a team with the well-known and much-hated office f*ckwit, lots of people warned Alan about him. Alan refused to believe that anyone could be as spiteful and as buggardly as they all said, until he almost provoked an apopoleptic Alan into spreading him all over the wall of his office. The f*ckwit would delight in playing mind games with people and Alan, having the patience of a saint, was something of A CHALLENGE for him. The office f*ckwit was left under no delusions that he was down the road if he kept winding people up and he was moved away from Alan and watched closely.
We had the same sense of humour at times. One office dress-down day, we decided it would be a hoot to both come in wearing formal dinner suits, wing-collar shirts and bow ties. He would play Santa at Christmas, wearing the Santa suit, which had been previously vacated by the office paedophile, who moved abroad. It was probably newly-fumigated, so Alan could wear it.
Alan's retirement, several months before my own retirement, prompted me to think quite seriously about whether I could afford to do it myself. Like myself, Alan had had enough of all of the daily petty foolishness. He had worked in very responsible roles in industry in THE REAL WORLD and the ridiculously futile Civil Service brand of foolishness, in the most foolish office in DWP did not suit him that much. He said he had had enough of us all being needlessly treated like school-children. He went and he left a big hole.
Without Alan there, to keep us all amused (and vice versa) it was nothing like as much fun and all of us Union Reps were being harrassed and battered by management. I started to plot my own escape. I did the math and then, after an imbecilic acting line manager tried to bust me after taking time off for necessary recuperation from a hospitalisation and operation, I started working harder on getting out than staying in.
Alan had been fumbling on guitar - his words, not mine. He said he had 'sausage fingers'. So he moved onto drums and was doing reasonably well at learning to play and he came along to brighten up our jam night a few times.
We kept in touch and still had occasional lunch meetings, but with Alan's freedom came the chance to go plane-spotting a lot more, so bless him, he went to the airport when he could. When I left, we continued to meet some of the guys from work. I was fairly regular, once a week, but Alan less so, as when Sue retired, they spent lots of time together.
Recently we saw him a lot less, as he became afflicted with motor neurone disease, which, as illnesses go, is about as cruel as it gets. It, at first, mildly affected his co-ordination, but then moved onto his speech. It must have been beyond awful for such a well-spoken, intelligent and life-and-soul-of-the-gathering type chap.
He considered and sometimes discussed his own mortality a lot when we saw him and he then went a bit radio-silent for a long while, but I managed to arrange to go to see him at home, a couple of weeks before Christmas with another friend and I was saddened to see how the disease had prgressed. He was in good spirits but struggling. I said was going to get Christmas out of the way and then go back to see him again, with a couple of work mates that he would have loved to see, but he didn't make it into the new year. We lost him on Christmas Day morning. It was quite a shock. But at least he is not struggling anymore. Considering how much he must have hated how his health was, I can live with that.
Good turnouts at a funeral are not the measure of a man, even though lots of his friends were there (not so much from work, as he'd left a few years ago and the joke is still told about problems getting time off, even for your own funeral). Some of us who were closest to him at work turned up to see him off and I am glad I was there for him, even though it was extremely sad.
In the car on the way back, I muttered something about my own personal wish for a wicker coffin and playing a few songs that everyone wouldn't like. "Everyone?" joked Lynda, caustically, gently mocking my natural assumption that anyone would come to my funeral. I might not even get the time off to go...
---
Thursday January 9th:
After we got back from Alan's funeral, I had several glasses of wine and, for a nightcap, I had a large measure of toffee vodka. The glass it goes in is deceptive. I was in a poxy mood before I went to bed (very early hours) and when I woke up this morning, I felt so utterly rough that I have sworn off the toffee vodka for a while.
I had to go into Bolton at lunchtime to meet Mike and Steve. I ended up having one solitary pint of Fosters, as that was enough for me. I'd have been happier with a coffee, really. Two at lunchtime is too much for me anyway.
---
Friday January 10th:
Tired out, but set off for the gig at the Stock Dove in Romiley, bright and early and I was there for 7.45. We were due to start at 9pm, so I was set up pretty much before the others arrived. Graham was generally first to arrive at gigs, but since he moved house and teaches drums Fridays and Saturdays, I now sometimes beat him to the venue - but not every time - and not always by much, though.
We played a decent show and there was some rather good punterage entertainment for the band while we played. We went down really well. Nice venue, nice landlord and land lady. Back there once more later this year. I am now looking at the diary and feeling like calling it 'full' for this year. One Saturday left in July and I just want to blank off that weekend. Next year will have even more weekends off built in. We are all getting tired.
---
Saturday January 11th:
Up very late after last night's exertions. Ignored alarm at 10am. Lynda came back to bed and we both just decided to sleep again.
Spent a good amount of the day updating the Slade book, THE NOIZE, which I wrote with Chris Selby, for the forthcoming 2021 second edition. There will be lots of new stuff to go in. More illustrations, more reviews and quotes, more details. All done to improve it and keep it as the book we would have wanted to buy. I have a fantastic cover design all done and ready to go. It was originally designed for the 2019 Convention edition, but when we talked about what could go in a second edition of the book, I decided that I had to do another new cover for the Convention book and save the unseen new cover for that new second edition.
Tonight, we played at The First and Last bar in Leigh. Our first time there and we went down quite well with the crowd. A fairly easy load in and out, though the parking nearby isn't as easy as it could be. We got our first and last drinks free, seeing as we were playing there, which was very hospitable. People were filming us. I can never seem to find the footage. I wonder what they do with it?
We got the gig through a recommend from our friends The Hats. That same night, they played a pub in Bolton where the DJ plays music at a dangerously high volume, while the band sets up and between sets and while we are breaking the gear down. It makes us sound puny. We have taken a couple of gigs there this year (and turned a couple more dates down, once we found out that DJ is still there). It is a horrible experience and last time we were there, I nearly asked for the accident book.
I don't want my tinnitus to go out of control. It's down to cymbals. My ears have a noticeable audible whistling sound going on all of the time, as it is. I can just about tune it out but it does annoy me sometimes, especially when it's time to go to sleep. Ian Hunter has put his music career on hold because of it. People have taken their own lives because of tinnitus and to inflict that kind of volume on people is just plain dangerous. Thinking what to do about those dates. Earplugs, for a start.
---
Sunday January 12th:
My wife Lynda is feeling quite down at the moment. She absolutely hates winter and long nights and dark days. She got up early and took the dogs out, then came back to bed. I stayed in bed awhile, mooched around then came back to bed 'til early afternoon. Luxury. I cheered her up by saying we will take the dogs out tomorrow to Heaton Park in Prestwich to give them a proper outing.
We did our jam night and had a very good turnout. Quite a few players and a pleasant evening was had by all. It was good to see Bill come back, though he clearly still isn't match fit. We did Sylvia's Mother again and it wasn't anything like as good as last week. We don't have an alternative venue for the three weeks off that are coming up, due to building work at the venue. We were told somewhere nearby may be able to take us on for those three weeks but that didn't come off. I wouldn't mind a rest for those dates. it would be nice to be able to do what other people do on Sundays - like meeting friends for a curry.
After the break, the venue is starting to do food and we will have a slightly later start and finish. This means I will possibly get my tea with Lynda - usually, it's too early for her to eat with me, before I set off at 5pm. There are some people the slightly later start will not work for, as they have early starts the next morning, but we intend to make the jam go no later than 9.30pm unless we have to.
---
Monday January 13th:
Another particularly grey and nondescript day. Our trip out to Heaton Park with the dogs didn't happen. Lynda said it was too dull to go out. Did some writing and played an amount of Super Challenge Freecell. It is grim out there.
---
Tuesday January 14th:
Grey again. Lynda spent most of the day in bed.
---
Wednesday January 15th:
Vincent and Edward - our beautiful brothers from Bosnia.


---
Thursday January 16th:
At last.. Heaton Park with Lynda and the dogs in the morning. I got told off for parking on what turned out to be a heli-pad and so I had to move the car. Lynda got a bit breathless, so we only went for a shortish walk and got back to the car. Lunchtime in Bolton with the chaps. Curry in the evening with some very good friends of ours. Excellent food and excellent company.
---
Friday January 17th:
A day spent mainly lazing around doing very little. My late wife Julie would have been 58 today.
The Three have just been offered a slot on the bill at the next Slade convention in 2021. This means learning some Slade songs for it, which isn't the end of the world. Slady will be headlining the event. This means the tribute band Slade UK have been deposed from the top slot - I just don't feel it when I watch them.
---
Saturday January 18th:
The Royal, Farnworth. We didn't have much of a crowd, as it's not been the payday after Christmas and New Year yet, but those that were there paid attention and clapped in the right places. We played well. Our mate Donna got up and joined us for one song at the end.
Earlier in the day, Facebook reminded me that it was exactly one year ago that I ordered the first proof copies of THE NOIZE. Crikey. It's been one hell of a ride.
---
Sunday January 19th:
Jam night again. Again, a good turnout and as we often do, we over-ran the finish time. My car was jam packed full of gear and as I was tuckered out before setting off, getting all the gear in wore me out and I was struggling a bit during the jam itself. It was great fun, though. Looking at some photos taken during the evening, I look absolutely dreadful in them. Quite ill.
---
Monday 20th January:
Afternoon. I am listening to the Listen like thieves album by INXS. Tom is looking up at me. First from the left of me, then from the right. He is totally fascinated by the small plate I have in front of me. It had a wrap on it a few minutes ago. It doesn't now. I ate it. He jumped up at it when Lynda was handing it to me at my studio desk. I wasn't impressed. Tom got a little tiny scrap of it when I had just about finished it. It went down so fast that he couldn't even have tasted it. I don't encourage him to watch me eat. I can't really enjoy my food if he is trying to get on a chair arm or, worse still, my knee, to look at what I am eating, or to beg a bit from me.

Five minutes later. Tom is now two feet away from me, quietly refurbishing himself. He has not given up on the plate, though. He seems quite obsessed by it, which will do him no good at all. He is staring at the plate. There are a few drips of hot sauce on it, which he wouldn't enjoy at all. I know that when I get up, he will have a go at getting to the plate, unless I get up facing away from him.
---
Tuesday 21st January:
Shopping in Farnworth. Missed parcel delivery. Bugger. Form left for me to collect it from Bolton tomorrow. Good job I am in a car.
Off to the hospital to have my shoulder looked at. The doctor told me (from the scan that was taken last September, that they never called me back two weeks later to discuss, like they said they would) that my calcium buildup in my left shoulder - I am crumbling due to my age - is worse than my right, which i already knew. I am being referred for physio excercies on my damaged shoulders, rather than corrective surgery.
I stopped physio to go back for the hospital to sort my shoulder out. They seem reluctant to do anything until I go through physio and get referred back to them again. (Bangs head against wall). I feel very badly like I am being fobbed off. I do like the physiotherapist that I have asked to be referred to, so I will discuss it properly with her. She managed to get my arms going quite a bit after my surgery.

I think that she will be slightly dismayed that I stopped a round of physio to go back to the hospital, who have scanned me and just sent me back for physio.
---
Wednesday 22nd January:
Picked up the parcel from the sorting office in Bolton. Nothing interesting. Spent most of the day messing about on the net and doing some new graphics for my websites. Also assembling new playlists for the PA at gigs. I think we are all bored with what I normally play.
I have a 'bad taste' playlist, which I wish I could use more often. Here it is:



XTC's 'Pink thing' isn't actually that bad)
---
Thursday 23rd January:
Went into town to meet the chaps. Had a couple of pints of HAGGIS HUNTER. Quite a nice beer that I will probably never encounter again. Called in at the charity shop with some swag that Lynda had bagged up for them.

An evening spent catching up TV. New Amsterdam is a current favourite and we are really enjoying His dark materials.
---
Friday 24th January:
Up very early. Off to college for a 9.30am start on my photography course. That finished at 12.00. I was quite surprised that some of the people who were meant to be on it didn't turn up for the first class. They will be the ones who are not paying for it, of course. One particular guy's attendance was really patchy on the beginner's course. He was the one who always asked the tutor for a pen, turned up with a camera with a flat battery and never ever had a folder for his work. he will turn up next week and take up time catching up and distract everyone all through the class.
After that, I nipped home and went to Ray's mum's post funeral wake in a club near me. Freda was lovely, she was mad about Quo and turned up at a number of our gigs and we always had to play Quo stuff for her. She's with Ray now, if you believe in all that. I didn't stay long at the wake. I was feeling a bit headache-y. I sat down and nursed a pint. A few people said hello and then sat elsewhere. A guy from a local trib band said hello, sat one seat away from me, with his back turned to me, gabbing with his mates. After half an hour of being totally ignored, I went out and got something to eat. Sorry, Freda.
I had a rest in the afternoon and pulled myself together. I quite fancied another drink while I relaxed, but I had some stuff to do which involved driving.
Our evening's gig was in a village pub. It's a gig I don't really look forward to that much, because we turn up and the stage space is never ever cleared for us. Even though I got there later than usual, I was still the first there. For a change, I decided not to go ask the bar staff to clear the space - which usually results in pulled faces and excuses - and did it myself. It only took a couple of minutes, but it's stuff we shouldn't have to do. We're not paid for it and, with two knackered shoulders, moving tables and chairs around and stacking them just doesn't work for me. It hurts afterwards. The venue also always have to be reminded what our fee is.
We had a natter at the soundcheck. Our guitarist Ian is mindful of how long the Roadhouse Blues medley is and wants to cut how much we play of School's out down (again) in what is a long medley. Both Graham and I think it's the best part of it, but I was tired and just said cut it out altogether, then. I'd like to do it complete - as a song on it's own. I have been lobbying for some time for us to put No more Mr Nice Guy in the set, as I've done it before. Ian mucks around with the riff, but says "Don't get excited - this doesn't mean we're doing it." Nice. There is some discussion about new songs. Sure-fire cracking rock songs don't make the cut because the other two don't know them. The audience probably would. Suede's Can't get enough is a great song - fantastic riff, charted etc. If a band doesn't change its set, it becomes a museum. We agree to try I can't take my eyes off you again. We have attempted it before at jam night and we have never quite got happy with it. Jet took us two and a bit years to pull together. I resolve to re-learn it at some point before Sunday afternoon. Probably on Sunday morning.
The crowd were a bit dead, as crowds go. One of our supporters turned up with a friend and danced around a lot. The rest of them were not whipped up into any sort of frenzy by Diane doing the twist all over the place. I introduced the band after five songs like I usually do, but I pointedly said "We are The Three and we are here to entertain you tonight... or die trying." It was lost on them.
Playing two sets of going on for an hour each when you are bone-tired and not in the mood for it is a skill. I really exercised that skill tonight. When we finished at 11.30pm, I put a few songs on the PA and then, as we packed up, we watched as a loud girl decided that she wanted another drink. Last orders had already been called a while before and the till had been taken out from behind the bar. She got really snotty with the bar staff and they asked her to leave. She wouldn't. In desperation, they called her Dad. I've never seen that done before. The scene played out again when her Dad wandered off back home. She got in a taxi with some mates and they presumably went into town to find somewhere that would let her in, to finish off getting totally hammered.
I was unable to give a chum a lift to and from the gig and so I was able to unwind properly on the way home. If I get a quiet drive home, I can go straight to bed and get to sleep, pretty much on my arrival at home, as I am then tired enough to be able to just nod off. I do like company on a long drive, but I like to get proper sleep even more. I always like getting into my own bed and dropping off ASAP after a gig.
Playing somewhere a distance away from home and then sleeping somewhere else is even worse and means means I get a rubbish night's sleep. I avoid that whenever possible.
---
Saturday 25th January:
A bit of a lie in. I am better after a good night's sleep. I didn't do very much during the day. I was in a better frame of mind for tonight's gig, because I had rested properly the night before. I'd also had a lie down in the late afternoon.
Our evening gig was at the Duke of Wellington in Lostock, where we have a gig booked most months of this year. It's a small set-up area at the end of the bar. It makes the sound a little difficult for me, as the bass tends to boom a bit there and I am very conscious of that and so I have to keep adjusting my sound to try to stop it. Tonight a bunch of young lads were sat along the end of the bar, with their backs to us while we set up. They did move along a bit when we had to put our vocal mics in place, behind their backs. People were watching the band through them. There was a 40th birthday party going on, so it was packed.
Graham had said he also wanted to keep School's out in the medley, as he watches the crowd and they prick their ears up at that. So it remains in the medley for now.
Some friends turned up to watch us and - following a conversation I'd had with someone else recently - I asked how much of my own book they'd actually read. Not all of it. Not that it matters. I think a number of people simply humoured me by buying it. I'm not that interesting.
We started a bit early at 9.15 (though it said 9pm on the venue posters). Usually it's 9.30. And our first spot was a good 50 minutes. We had a break and started the second spot with us singing happy birthday to a nice young lady called Caroline, who also got the chorus of Caroline Because we'd started early, our second spot looked like finishing a bit early, so the landlord kindly offered us some extra dosh to keep going 'til midnight. We are always willing to oblige and a few 'emergency songs' crept in - Summer of 69, I saw her standing there, Fire brigade, Honky tonk woman and Alice were slotted in.
I was home a little after 1am and went straight to bed.
---
Sunday 26th January:
Up at 10.30am. Our kitten Baby was nowhere to be seen. Panic stations for me. She has started going over the fence to next door's garden shed roof on little adventures, but she always comes back. I had a look round for her later and she was snuggled up to Lynda, who had gone for a lie down. Sent some of the morning running through I can't take my eyes off you and writing catch-ups on this blog.
Jam night at 6.30pm: I can't take my eyes off you went reasonably well. I will need the words, or a prompt for a while. My fingers know where to go, most of the time, when I am playing that one, which is the most important bit for me. That comes first when I have to sing and play. I am a bassist, first and foremost. We also had a go at Battleship chains by The Georgia Satellites, again with me singing. I've done it before, but not singing it. It's not going to be hard to get together. We are also looking at Saturdays night's alright for fighting, which I have sung before. That will be good if we get it right.
The rest of the jam was really excellent, with good attendance and participation. One woman (you can always tell when they are going to be trouble) came up to the front when one of the acts was about to start his econd song and demanded that she get up and sing. We said it was this act's turn at present. He'd only just started, and so we'd get her up shortly. If she went to see our guitarist, he'd talk to her about what songs we could do with her. That wasn't good enough. She got stroppy. This is a jam night, so why weren't we getting her up to sing? Graham tried to contain himself. She left in a huff. An obvious not-right. She will no doubt reappear in a couple of weeks and do the same thing again. They always do.
---
Monday 27th January:
Up reasonably early. Something to eat and then off to my physio appointment at the hospital. The physiotherapist is quite nice. He went through my shoulder's history - five or six years of problems. Shoulder op on right shoulder a couple of years back, physio, then back to hospital, then more physio, then back to hospital, MRI last september - no follow up meeting, now they are trying to avoid doing anything invasive, so I have been referred back for physio on what I consider to be a compromised shoulder.
We have agreed that what I need to do is build up the muscle strength on my shoulders, as they are quite wasted and my shoulders feel quite boney. I have been given a basic simple exercise to do to start with, a couple of times a day.
In the evening, we watched the 'Michael Hutchence Mystify' DVD that I got for Christmas. It is quite tragic that he isn't here now. How he went is beyond tragic and what happened to him in his last few years was utterly awful.
---
Tuesday 28th January:
Up at 10am. Not bad, seeing as I finally went to bed at 2.30am. Lynda has not been well today and has spent a lot of the day in bed. She's been getting some crappy headaches.
Called round to my mate Dave's house in the afternoon for a quick visit. It was fun to horrify him with a bit of rock music from the Supergrass box set. The music is tremendous, but some of it is a bit rowdy for Dave. Seeing as he has spent a lot of money on various guitar distortion pedals, it's funny to see him disturbed by a distorted guitar. But, they are pretty noisy and he's a bit of a folkie at heart...
Lynda didn't eat very much of her evening meal. I ended up resorting to a takeaway curry at 8pm, as she had gone back to bed. After she picked at her bit of it, she went back to bed.
I found myself channel-hopping and watching some of the TV awards show, which is generally pointless. Jodie Comer was pipped to the post for her award for Killing Eve, by Peaky Blinders actor Cillian Murphy. I suppose he was the only one who could have taken it from her. Ant and Dec took the annual award for the best show hosted by Ant and Dec and I ceased to care what was happening. Emmerdale won best soap for the fourth year and I started to nod off.
Dogs out and then lights out and off upstairs to play Super Challenge Freecell.
Starting with a shitty cold. Worried about my voice.
---
Wednesday 29th January:
Some really bad family news which I can't go into, but which caused me something of a sleepless night.
---
Thursday 30th January:
Into town to meet the guys... well, Mike, as Steve is is the USA at present.
---
Friday 31st January:
College at 9.30am. A morning of general confusion and apertures.
Lynda has another heart operation scheduled for 8am on February 21st. In Liverpool.
The afternoon was made interesting by our central heating boiler deciding to pack up and go on strike again, when I went for my pre-gig bath and so I found the water to be freezing cold when I put my foot in it. I was not impressed. We tried various things to resurrect it, but to no avail. I rang the heating guy who sorted it last time and he said he'd pop round early tomorrow morning if he could to have a look at it. Amazing. He said it would probably be about 8.30am. Not as amazing, but if I have to get up to get the heating sorted, so be it.
I washed my hair in the kitchen sink, using a kettle and a jug and guessing temperatures, which was also not amazing, but at least I went out with nice hair, instead of looking like Wurzel Gummage.
Our gig was interesting. My head was all over the place, with various family worries and residual panic about the boiler. I messed up songs throughout and my recall of lyrics was a joke. I forgot where I was on I want you to want me and it was pure comedy.
On the drive home, I decided I'd call in at MacDonalds in Haslingden, rather than coming back via my outward route, up the M61. Mistake. The motorway was closed and I had to come off at Edenfield and drive down A roads into Bury then across to Bolton. I hadn't even bothered with Macdonalds after all that.
We have done a bit of juggling on a gig, so I could go to watch Sparks in Manchester in October, seeing as I managed to get two tickets.
Another venue cancelled us by text message for a gig we had booked with them in April, as they were having a party with entertainment already provided. It is one of my least favourite and most rubbish-paying venues and it is actually a real pleasure not to have to play there. It's a long way to go for little money and to play to a small, but not mentally-formed audience. If we can lose the other gig later in the year, my life will be complete. Bed after 2am.
---
Saturday 1st February:
Up at 7.45am when the doorbell rang. I got dressed and struggled downstairs. Our central heating was fixed quickly and cheaply and I could now relax. I ended up going back to bed after a while. I slept a lot today.
We went to pick Kay up as she and Lynda were coming to watch us play at The Veterans Garage at Manchester City airport. Once we shoehorned her into the back of the car with all of the gear, we made very good time getting to the gig.
The gig itself was an absolute pleasure - apart from the stairs to get up to the room we were playing in.... We don't usually do stairs. We were told there would be bikers around to help us in with the gear. Where were they? Anyway, the room we played in was really nice and we were pleased to see that we had some supporters there. We fixed up a gig in April, to replace the date that we lost at the other venue (thanks to Eloise for asking, as I didn't know who to chat to about it). I only got lost slightly in one song, because I got the giggles at one point. A fun evening.
---
Sunday 2nd February:
Up late. Updated the website with various gigs added and subtracted. I have a bit of a laze around watching some TV then at 5pm, I set off for the jam night. It's a 15-minute drive at most, with hardly ever any traffic. Parklng when I get there is either dead easy or a total pain.
The jam night ran pretty much as usual. Graham and I arrived at 5.15pm and loaded in and set up. Graham set up his drums and I set up the PA and chased some electricity over to the stage area from behind the DJ booth in the corner. Then I put the PA cabling in and power up the PA and play some music instead of whatever noise it is called that the bar have on. Graham plays totally unrelated drums over it. Then it's set up my mic, a guitar amp and my bass rig, check the sound balance on Graham's drums, tune two guitars and two basses. Ian usually turns up at around 6.10pm as he has quite a long drive to get there and is pretty much plug and play, ready to go. We sometimes start a couple of minutes late, as I am still running round doing stuff - I have been working at fever ptich for over an hour, non-stop.
I hate the jam night setup, as it is the hardest work I do all week and we do it every Sunday. It is a regular weekly absolute ball ache. I'm getting too old for this shit. There you go. I finally said it. If it wasn't such an enjoyable evening, once that hard work was done, I would opt out of it.
Despite the calls for us to play Busted, or Freebird, which we cheerfully ignore, we start the jam night off with a couple of songs that we need to get into the set - Battleship chains and Saturday night's alright for fighting. They go fairly smoothly and we pat ourselves on the back. Next weekend we have to use a dep drummer (Redders) for Friday night at the beer festival, as Graham is doing a reunion gig with his old band. Redders plays a bunch of songs with us that he thinks he needs to check are right. He's played with us before, but it's a while ago. They go quite well.
We get various people up. I change my mic for a spare, so I don't get anyone's lurgy. At one point, I change back to my own personal mic and this guy down at the front asks if he can come on the mic. I say no, because I'm on it, it is my own personal mic and I can't change it while I'm playing. He ignores me and comes on stage anyway. Fortunately, I have a third mic. The same guy decides it would be nice to play guitar with one of the regulars, to save me the job. I like playing guitar at jam nights, but it's not MY stage after the first few songs, so I happily plug him in and head off to the bar. My first drink is free and one of the guys from one of the bands buys me one.
The regular guy's face is a total picture as they go through the songs. It's errrmmm... different from what he was expecting. He does like it to be fairly consistent every time. I tell him afterwards "I like to see you suffer!". That's the great thing about jam night. It should never be the same. I personally like it when it gets a bit mixed up at jam nights. Anarchy is good for you. You learn from it and improve. At one point I sneak out, go a few doors down the street and get myself a portion of chips.
I used to know a local band who lost their own jam night, as they wouldn't get other people up. That's NOT us at all.
We jog on with the evening, giving all of acts their turn and, of course, we usually run well past 9pm and we are still getting people up. All this unpaid overtime.... Graham has done a sterling job of organising who gets up next during the evening. The last couple of people to get up onstage come and go and the crowd start shouting for us to play Alice and Purple rain. We have run really late, so I stick some music on the PA instead. Not every week should be the same, nothing should be taken for granted. Always leave them wanting more.
After the last song, I always put the PA music on for 3 - 4 songs and then everything's off. In the meantime, while the said music plays over the PA, I am frantically breaking gear down and packing it away. Graham also gets on with it. There are always people who want to chat to us after we play and I always politely pass, as I have to get away. Ian has to be up at 6am for work. The bar staff want to get away, too. I am also very mindful of that.
We should have finished at 9pm. Allow 30 minutes to get the gear in the car and 15 minutes to get home. Of course that doesn't happen. I get home around 11pm. In April, the jam night will be starting a bit later. It will finish right on the dot every time from then.
---
Monday 3rd February:
I ignored my 9.30am alarm, as I am still knackered from last night's exertions. I really do feel it these days. Up ridiculously late - 11.30ish. I go out with the dogs for a good walk round the local lodge to clear the cobwebs. Three Gaz Coombes albums have arrived for me to listen to. Probably not all today. Lynda is doing a serious battle with defrosting the freezer, so I do have a limited window of opportunity. I catch up my writing on this page for the last few days and edit a couple of previous entries.
I get a phone call from a friend with close connections to various Slade members. Jim Lea has had his black Fender Stratocaster (Contemporary Japanese HSS model) stolen, somewhere in central London. So, we have to make the media explode with calls for the return of the guitar. I do the necessary on the website.
I spent the evening catching up TV with Lynda and missed the REAL Slade explosion of the century. Dave Hill has sacked Don Powell from the band by 'a cold email'. Those two had been together in bands since 1964. Now, while Slade may not be the name on everone's lips today, for some of us, this is a bit of a milestone and it is certainly a shock for Don. I had been emailing him over recent months and I got the feeling that something was amiss. Certainly, he wasn't speaking fondly of Hill.
On Facebook, Slade fans reaction varied between astonishment, outrage and also calls for a full reunion (from the particularly dim ones). That has been off the cards for so many years it is a nonstarter today. Hill has not come out of it well at all. It is their personal business, but I think Hill has made a mistake. The internet loses interest in Jim Lea's stolen guitar, as Slade are now over.
---
Tuesday 4th February:
Dave Hill responded to Don's announcement with a 'not accurate' response. The small corner of the internet that Slade inhabit was still going mad and the press had got hold of it and had asked Noddy Holder for comments. I emailed Don Powell to offer some support and web help.
Lots of TV. Bed.
---
Wednesday 5th February:
Edward managed to get himself hurt. He came into the house with one of his rear paws bleeding and a hole in his onther rear leg. Off to the vets. We don't know what has happened. He ended up with painkillers and sedatives.
On top of this, our central heating boiler packed up again. I tried to get the heating chap to come out, but he is mad busy with work.
---
Thursday 6th February:
Into town at lunch to meet with Mike. Took a carload of cardboard boxes to the tip, as Lynda is re-doing the kitchen so that everything in it is red. Chased the heating chap, but he's still busy. He said he may be able to come on Saturday.
---
Friday 7th February:
Edward limping miserably around the house. His rear paw is still giving him a bit of gyp. My son Paul popped around, which was nice - we haven't seen him for a bit. We talked about the heating problems. The guy is supposed to be coming to fix it tomorrow, so panic averted.
Philip Schofield, the TV presenter, bravely came out as being gay on morning TV. Cue a much bigger Internet explosion. Frankly, it is a matter that really only needs to be shared between himself and his family. But, however he feels the need to deal with it is totally up to him. I really don't feel the need to go round announcing to random people that I am straight, because what I get up to into the bedroom is nobody's business but ours. Public figures always seem to torture themselves over this kind of thing. Needlessly.
In the evening, the band played at the 31st annual Bent and Bongs Beer Bash. We went down really well and we look set to be back on there next year. We play stuff everyone knows and can do the jukebox of hits as required. Nice work, when you get it. Steve Redmond helped us out on drums, as our own drummer Graham was otherwise engaged with playing a theatre reunion show with his old band, Shabby Tiger.
After the gig, we managed to get a couple of free drinks, very nice too, but having to drive back home means having to avoid the strong stuff and keep it to a legal amount.
---
Saturday 8th February:
Woke up early, feeling rather rough (I'm tired, not hungover) after last night's exertions. I woke up thinking about the damned central heating boiler. Spoke to the heating chap again. He got me to order the sensor part for the heating from Ebay. That's going to be another couple of days now without the central heating. Not what I was expecting. It's cold and Lynda is getting quite fed up. I want a warm bath more than anything else in the world.

I get myself a shallow bath ready, using a kettle, but it's not a good soak in the bath. That's what I really need. As well as for the heating to be working. Lynda is going quietly mad about all of this.
I had some more very stressful bad news before our gig at The Hulton Arms in the evening - Graham will be taking a break again - and I played the gig in a total fog. I just wasn't into it, because of that. On top of the stress about the boiler, I was left in such a low state and feeling rather sick that I just functioned, rather than performing. There was quite an amount of talk to punters going on after we finished playing. I packed my car up and spoke to Graham and just went home, rather than waiting around.
---
Sunday 9th February:
Woke up feeling hideous. Stress manifests itself as nervous stomach with me and I just feel sick. Spoke to Lynda about everything that's going on. I'm just dismayed by it all. I checked Ebay. The boiler part is probably going to be posted on Monday and will be due here on Tuesday or Wednesday.
I am 'slightly distressed' to hear that the venue that recently cancelled us for a forthcoming gig, has flooded.
The jam night in the evening was quite decent. Graham on good form. Lots of people showed up to play and watch. Funnily enough, some of the guys that normally play were gigging across the road, so we sneaked in and did the last song of the night for them with their bassist 'Reluctant John', singing Elvis as only he can.
---
Monday 10th February:
Central heating part is in the post. Boiler guy advised. Rest of day spent watching TV, walking dogs and stuff and in the evening I went for a takeaway curry, but Lynda retired ill to bed. Later on, we watched JOKER. What a superb and odd film.
---
Tuesday 11th February:
Started on Season 5 of The Wire, from the box set. I watched the other seasons and have left it a year or so to come back to it. It is REALLY BLOODY SLOW. But then again, so is police surveillance work. The boiler part arrived, so I rang the chap. The main event of the day though, for myself, was getting the heating boiler back on at 9.30pm. The amount of misery in my household surrounding its failure can't be described in mere words.
---
Wednesday 12th February:
The main event of the day was having a long soak in the bath. Did an amount of web work and some new writing for the 2021 update to THE NOIZE. Walked to the hospital and back. Physio appointment at 5pm. Two more exercises. Caught a lot of TV up in the evening. New Amsterdam and The Good Doctor. Both are capable of bringing me near to tears. Just remembered I haven't watched any of the last season of The Walking Dead yet. It has not changed my life.
---
Thursday 13th February:
Woke up in pain from new exercises from yesterday. Still did them all again today. Met Mike in town. Steve wasn't there today. Ged has given up drinking til Easter to save money and his liver. Did some shopping on the way home, then some more writing when I got home. Hope to put some proper recording time in next week. Watched two one hour shows about Universal Credit - they actually made me start feeling anxious. I always felt for claimants who were in dire straits. I cannot understand a society that has to have food banks. The funny part was where the man in charge of Jobcentres magicked some recruitment up for Toxteth Jobcentre after a visit. Just like a fairy tale. Hoorah. That's not just for good press, is it? Other Jobcentres will be ripping if they don't get some more staff.
---
Friday 14th February:
College in the morning. We look at posting to the college forum and the rules for doing that. Then we look at various aspects of Photoshop.
After college, we take Edward to see the vet to have two staples removed from a wound on his leg. The Vet doesn't find them. He thinks Edward has taken them out himself. He is still limping on his other leg and we are told that if we areinsured an operation will cost £1500, but that he will be recovered in a while anyway.
The evening's show was in a lively enough venue in Lancaster and we usually enjoy doing it, but I wasn't in a great mood all day (for a change) and when I got there first and set my gear up, I at least felt a bit of peace. Then the others turned up. Eloise came with Graham bearing an acoustic guitar. Time was tight and I fretted about timings.
We started later than we should have for an 11pm finish and so, the acoustic slot became out of the question. As the gig went ahead, there were some problems with the sound balance. I couldn't really hear what I was singing. I boosted my voice in my floor monitor, but I got told off for doing that, as the stage is the size of a postage stamp and any increase in sound fills the stage. Down it went again. Someone actually came up while we were playing, to try to help and fix my mic by taking it off the cable and putting it back on again while I was singing into it, or by messing with the desk, as my voice couldn't be heard out front. I don't want anyone touching the band's gear when we are playing, but thanks. I just like to hear what I am doing. Other people may have perfectly valid objections to prominent volume - so do I - but I wasn't too loud at all. My monitor doesn't affect the out front sound. It's for me.
Other stuff threw me and I didn't enjoy the gig much.
I drove home in a bit of a mental fog. I stopped at a MacDonalds for fries and a vanilla milkshake, just outside Lancaster and cooled down as I drove. In and straight to bed.
---
Saturday 15th February:
I should have got up earlier, but I was home in the early hours of the morning from Lancaster and I felt like total rubbish. I didn't want to wake up and have to think. Last night's bad mood was still hanging over me and I was really tired.
Anyway, I got up quite late today and sulked around the house awhile. Nothing much to do. I caught up some TV and messed around with various cats. Cleo - in particular - sometimes seems a bit lonely. Lynda has noticed that. The dogs tend to take over being in the front room with us and various cats spread out in various other places around the house. I always fuss Cleo whenever I pass her or when she appears, though she seems doubtful of being around the dogs sometimes.
My mate Kevan rang me. He is DJ-ing at the private party we are playing at later. He's getting his gear to the venue later this afternoon. Do I want to take my stuff down and get it into the venue? I said no at first, then I thought it was a good idea, rang him back and agreed to meet him there.
1.45pm - The place had stairs. Steep ones. Very steep ones. They were not very safe-looking. I made several trips up and down them with all of my gear, except for my basses, which would arrive with me. We discussed where the band should set up and I opted for a place near the entrance where we wouldn't have to cart gear through any seating. Tables were moved around and I got everything I could done, finding power points and laying on mains power, setting up my bass gear and what I could of the PA, including trailing the cables ready for plugging in, so there would be little left for me to do later, except help the others in with their gear and finish off connecting the PA system. It would be a rush to be ready for 8 otherwise.
I got there just around ten to seven and it was pitch-black, really windy, and the rain was lashing it down mercilessly. The doors were still closed and some young kids wearing hardly anything stood in the pouring rain with purses held uselessly over their heads. The others arrived and we got the gear in. We did manage to set up for an 8pm start but actually started a little bit later. The party was for a 76 year old (who we had a nice chat with about his Shadows guitars and about music gear in general) and also for a 15 year old.
Kevan introduced us as "that band from TV".
It hasn't changed our lives.
Kevan played music for all ages. We didn't. In front of me, a table full of stick-thin young girls, all dressed in the tiniest skirts imaginable, with 'interesting' eyebrow designs and made up in their mid 20's, but probably still grappling with puberty, looked miserably at their phones, while we clattered through some Status Quo and Who numbers. The older folks all got it. The kids just ignored us. Even our party songs were far too old for them and just went over their heads. One girl started making DJ requests while we were still playing. "Death by a thousand cuts," I said to Graham and Ian afterwards. At least the sound was not a problem. Full marks for having cheese pasties in the buffet. The little girls probably don't eat solids, so there were loads left over. Once we finished, Kevan played some absolutely awful stuff that had been requested and the kids all started waving inflatable guitars around to music that was probably made by some retarded 8 year old on a laptop, rather than people playing actual guitars.

We were away at around 10.30pm. Home and bed early. Lynda has found the two staples that the Vet had said had come out and we grappled with getting them off Edward's leg ourselves.
---
Sunday 16th February:
Up late again. I really need my sleep these days. Lynda seems to think I just like rotting in my bed. She gets up earlier than me every day. She might be right, but the morning after a gig night, I am usually truly knackered. I couldn't do this AND a 9-5 job anymore. Slack living.
Storm Dennis has done a couple of things in our back garden, so I go outside and sort them out. I catch up writing my blog for the last couple of days, while Tom barks at anything and everything, including the Amazon delivery guy and take the dogs for a good walk.
I expected the road to be flooded again when i got to the deep dip in Mort Lane. It wasn't. The sky was an odd, dark metallic grey on the drive there and it looked like it was going to heave it down the second i got there. The landlady let me in after a minute or two from when I arrived at 17.10 and I got straight on with setting up.
The jam night tonight was mad busy. Everybody in the bloody world turned up to play. This is good, right? Graham counted 8 drummers. We ran over by an hour and, despite Graham's best efforts as ringmaster this evening, we found out afterwards that we hadn't got quite everyone up. A snotty comment on the page and a string of Facebook messages complaining about a drummer's omission from the running order have gone down as you might expect with us.
We do our best. We are human. We can't be 100% perfect all of the time. We are not the jam night that the drummer mentioned that don't let him up. We are the one that does let him up. Tonight he didn't get up. Some full bands arrived. We can't split them up to let other people in. We do our best. Gimme a break.
Off to bed. The bed was full of dogs and cats and I had very little room and was too hot. No sleep.
---
Monday 17th February:
I was still awake at 5am and nodded off again, probably around 6.30am. I got up around 10.45, after Tom decided to bark at everything in Farnworth, while a couple of feet from me. I felt sick-tired, so left coffee 'til just after noon. An amount of writing. My bass rig wasn't working properly at the jam - one of the output jacks is damaged, but I assembled the bass rig in the house, used a new cable and it works ok, so I taped the cables firmly in place inside the rack case. I had visions of having to drive to Warrington to get it sorted out and then again to pick it back up - and the expense involved. The time taken would be more of an issue than the money, though. An afternoon killed going and another coming back with it.
Also I haven't seen Tilly for a few days, so I popped round to Bill's house, which is just round the corner, twice - and there she was. Phew.
After our evening meal (we call it 'our tea' up here in The Peasant North), I started dropping off to sleep, annoyingly missing an amount of the point of the second episide of The Pale Horse - an Agatha Christie mystery that I'd been watching. I will catch it up. Watched New Amsterdam - It was just awful to watch Max's cancer getting on top of him and the treatment not being effective. Very upsetting. Seeing as I was nodding off, I made sure I wasn't late out of bed.
---
Tuesday 18th February:
Having set my alarm for 9.15am, in preparation for a 6am wake-up on Friday, Lynda told me to turn my alarm off when it sounded, so I didn't just snooze it for 10 mins and get up. This meant I fell back asleep and so I was up quite late again. I really want to sort out my sleep patterns, but everything conspires against me. Weekends with really late nights don't help at all.
Someone commented on Facebook that my Slade live photobook is rather expensive at £22.00 and they would only pay £10.00 at most for a book. That's a lot of books that that particular someone is never going to read. He got very sniffy indeed when I pointed out that the book costs £9.56 each to print and that Amazon take a 40% cut of any leftover money after that. I think you have to charge about £16 to get a 1p royalty, using their system.
---
Wednesday 19th February:
Nothing much to write about today. I got up at a more sensible hour and did some bits on the book. I am getting some contributions from Don Powell, which is nice of him.
---
Thursday 20th February:
Up at a sensible hour again. I am quite dreading tomorrow's 6am get-up and early start, but it has to be done and I will do it cheerfully. No lunch meeting today. Popped round to my daughter Rachel's house for a quick hello. The evening was spent catching up an amount of TV. I can get very emotional watching The Good Doctor or New Amsterdam. Bed at about 12.30 am as we weren't tired. Bodes well for the morning...
---
Friday 21st February:
I must have got to sleep at about 1.30am. My phone alarm went off at 6 am. No snooze. I sat bolt upright, stopped the alarm and got dressed immediately. It was just pitch black outside. I really surprised myself. I took the dogs around the park. Lynda got herself together and we set off at about 6.20am. I went up the East Lancs Road until Lowton with the Sat Nav arguing with me all the way, until we cut across the A49 to Warrington, then we hit the M62 and the sat nav calmed down- Rylan Clerk Neal was on the radio, being unbelievably and un-naturally cheerful. Lynda and I were not speaking, as we were both so tense about the day ahead. The M62 was not busy and we were at the hospital in Broad Green, Liverpool nice and early.
At 8am they checked Lynda in and I stayed awhile until there was nothing much to do. They went through a list of what could go wrong and I felt quite sick. God knows how Lynda felt. Having a hole in your heart closed is a serious business. The number of things that can go wrong during and after an operation is too high and it is testament to their wonderful care and skill that the percentage of incidents is so very very low. Lynda was told that she would be staying overnight, so I didn't need to hang around 'til the evening to collect her.

I went to my mate Mark's and we had a lovely veggie breakfast at Leaf, walked round awhile, took in a guitar shop or two and then went to The Blackburne for a pint. After that, I said my farewells and drove home at about 2pm. I got home at about 3.15 as traffic was more dense on the way back.

I was quite nervous about what was happening at the hospital and I spent most of the day looking at my watch. I rang at 5pm and they told me the operation had gone well. Lynda's heart was in good shape and the piece that they had put in to close the hole was properly in place. I celebrated by walking the dogs again and then having something to eat. Then I fed the menagerie. I was so relieved that all was well that I went and had a long soak in the bath. A soak usually de-stresses me nicely and I fell asleep on the sofa at around 9pm. When I woke up, it was too late to nip out and see some friends playing at the Jolly Nailor in Atherton. I let the dogs out at the side of the house and when they had concluded activities, all of us went to bed.
---
Saturday 22nd February:
I woke before my 9.30am alarm, seeing as a cat jumped onto my stomach. I think it was Silver, who is quite small, but it really hurt. I was crushed up to the edge of the bed, as Oscar and Tom decided they needed to stretch out and take up all of the bed. I got up at 9.30, seeing as other cats wanted to jump on me too. I woke up tense and nervous and went downstairs to feed the rabble. At 10am, I rang the hospital to see what time I could collect Lynda. How long was a piece of string? The Doctors were on rounds, so more would be known later and they would get Lynda to ring me up.
I walked the dogs, fed the menagerie, did a couple of things to the car with coolant and oil. At noon, I decided to head for Liverpool to go see Lynda. If she rang me when she was ready to go, it would be an hour or more later when she got out. I went all the way up the East Lancs Road this time and headed down local roads for the last few miles. A nice drive. Graham Norton had some good guests on his show, so he wasn't as nauseating as he usually can be.
When I landed, the nursing staff did everything possible to get Lynda ready for discharge. The difference between the hospital staff and those on one of the wards in Bolton is like night and day. We were home fairly quickly - M62, M6, A580 was our route.
We watched the third programme about Universal Credit and it was very nice to see a couple fo people I know at Bolton Jobcentre come across as the good, caring people that they are. It is a crappy and often thankless job and the circumstances of people on UC are just difficult (customers and staff). The scandal of huge advances and then repayments was outlined. One woman took a huge advance and had to repay it over 12 months. She spent it on bills and some nice things, getting her hair done (though you couldn't tell) and she had an ever-present fag in her mouth, as did her fella. When her payments went down, she regretted taking so much, as she managed somehow to get a second advance, so it would take until some way into 2021 to clear.
In the evening Graham had a hospital appointment (at 5pm) and he was nervous of being late for the gig. He was on time and all was well. Lynda came out to watch us and a nice evening was had by all.
Bed at 2am,
---
Sunday 23rd February 2020:
The tensions of the last couple of days have caught up with me big-style. I went and unset my phone alarm and decided to let nature take its course as to what time I woke up. As a result, I woke and paid a loo visit at 9.30am and shortly afterwards, Lynda got up, followed by some cats and dogs - meaning I actually got enough bed to lie on comfortably. I awoke to 2 dogs and 4 cats on the bed, all sort of leaning on me, When they all followed Lynda in the direction of food, I hoped this meant I could lie in comfort for a short while.
What it really meant was that I could spread out in bed, fall back asleep and be woken up by Tom coming to lick my face, Oscar turning round and round at the bottom of the bed, before dumping himself on my legs and then a number of cats surrounding me, to make sure I was still breathing, or walking on my hair to make sure I was alive to react.
Lynda came back to bed, as she is sore and exhausted and it got to lunchtime, when I woke up and around 1pm when I got up again. We had some lunch and watched a little TV and had our early evening meal. I did a little web work before it was time to head off to the jam night at 5pm
The jam night was the usual parade of people getting up onstage. We were a few regulars short and they were much missed. There were a couple of flash points during the night and I think a couple of egos need calming down. Later on, the host band (us) briefly discussed the evening and rumblings were made about not sticking to time limits, as some people were missing. I think THE (imaginary) BIG CLOCK needs to come out again. We over-ran horribly and I got away from the venue at 10.35pm - about 45 minutes later than we needed to. We STILL didn't get everyone up. I count that as a failure, but hell, we do try.
I called at the chippy on the way home. Before hitting the hay, I watched the penultimate episode of the first season of New Amsterdam. The chief Doctor at the hospital, Max, is going through highly aggressive doses of chemotherapy because of throat cancer and it is killing him. The end of the episode is overwhelmingly heartbreaking and shocking and I nearly broke down in tears. Cancer is horrible and anything to do with it can set me off. Programmes about it, the mention of it affecting people. Anything. I think I just (understandably) worry about going for my reviews and it all going wrong again. It is happening to someone quite close to me now and I worry a lot. Bed at nearly 3am. This is going to bite me on the ass tomorrow (well, later today).
---
Monday 24th February 2020:
Up before my alarm this morning, well, by a few seconds anyway.. Reasonably awake. A huge kitty tree arrived and I put it together with Lynda. The thing is massive and also really heavy. The cats seemed to take to it quite well during the day. They couldn't exactly miss it, so most of them went for an explore of it. It has hammocks that dangle over the radiator, so that will be good in winter and in summer, they can stare out of the patio doors.
Called for some parcels that came on Friday, while we were busy at the Heart and Chest Hospital. Nipped to Rachel's for a quick visit. And I made another one of my 52 allowed trips to the tip on Raikes Lane. Booked the car in for a service tomorrow morning. Lynda is exhausted still - the op is really catching up on her now. She has a massive dark bruise on her leg, where they put the feed in, to go up to her heart. She went to bed after our early evening meal. It's the best place for her. She tries to carry on, but she's been through quite a lot this last week. I walked the dogs round the park opposite me at 7pm and then set a bath going, for a soak and relax....
An evening of TV, then some writing work, as Lynda went to bed. I created a new image for the 1974 section of the book, using some photoshop techniques to adapt and album cover - reasonably pleased with it. I took the dogs out again very late, 9.30pm, then again almost at midnight. Bed at almost 2am.
---
Tuesday 25th February 2020:
Up in time to get the car in to the garage for its service and walk back home for 9.30am. Lynda spent some of the morning back in bed. She's still rather sore and tired. Teatime in the evening: I suggest Lynda doesn't cook and I get a chippy tea. I bring it back and Lynda is in bed. This operation has wiped her out.
---
Wednesday 26th February 2020:
Up really late.
Supergrass in the evening. Excellent.
---
Thursday 27th February 2020:
I was up this morning before my alarm (which went off at 10am, so don't cheer for me too loudly). I went and did some pet food shopping and then spent the afternoon working on another book, that will probably be coming out later this year. I resisted the temptation to go and watch Supergrass' second night in Manchester and so I missed Johnny Marr getting up with them.

I have run into Johnny Marr twice - once I was with my kids and looking at Gretsch guitars at a now-closed guitar shop in Manchester (Music Ground). I was talking to the guy behind the counter about how the control knobs were loose on a few of them and JM walked in and had a chat with the sales guy for a while. I nodded hello, but left him to it. He wasn't on duty, so I left him in peace and then felt very self-conscious about any relatively inept guitar noodling emitting from me. I also ran into him backstage at a Who gig at Manchester Arena. A friend had got us backstage passes and we were in the hospitality room (which the principal band members wisely avoided, so we didn't meet them) when Zak Starkey, who was playing drums with The Who, Rabbit, their keyboard player and a certain Mr Marr appeared at the door, just as I was thinking of finding the dressing rooms. They told me the band had gone back to their hotel, but Zak and Rabbit signed our programmes. I didn't ask Johnny Marr, as he wasn't on the bill and it was a night off for him. Not fair game. Next time... I do have a signed copy of his book, but that came signed, rather than me getting it signed - not the same thing.
In the evening, we watched the final episode of New Amsterdam and it was more shocking than the previous one. It finishes on a massive cliff-hanger and I was an emotional wreck, close to sobbing. We also watched a programme ('Hospital') about a day's work for the surgeons at the Liverpool Heart and Chest Unit. A day of mixed results with two patients having operations, one being put back a week. One of the patients had the same operation as Lynda, but his heart failed and he died during the operation. If we had seen this show beforehand, we may not have gone. They are the best at what they do, but the programme was mortifying to watch.
Bed very very late - again. I do like writing.
---
Friday 28th Febuary:
College. I unwravelled a few functions on my camera that I needed to know about, this morning. A very useful session.
I spent some of the afternoon doing a good spot of reading and I finished off Linda Ronstadt's autobiography. She hints at the end of the book, about how she has been robbed of her singing voice, but doesn't really talk about it at all. She probably felt unable to, at the point when she was writing the book.
The evening's gig was at the Rose and Crown in Westhoughton. I arrived to find the stage area full of tables and chairs. The guy behind the bar was only expecting us at 9.30pm - our start time. After a short discussion, we cleared the area. The stage area there is a bit naff, as we are playing out of the corner and there's a big supporting pillar in the way, so we can't see half of the audience and they can't see two of us. But I persevered. Home late, bed late. Zzzzz.
---
Saturday 29th February:
Up late. A rather grey miserable day. It was warmer in bed, so I stayed there. Slack living. I took the dogs for a long walk in the afternoon and popped down to my mate John's house. He is having some heart problems and so he hasn't been to see the band for quite a long time now. Good to catch up with him and to hear he is getting better, slowly but surely.
Our evening gig was at The Ship & Anchor in Southport, which is opposite the old Fox And Goose venue that we used to play at. That venue is still closed and looks unlikely to reopen. The Ship & Anchor have done a great job in opening the room up and having a tremendous roomy and well-lit stage with a great PA on one side of the main room, though we were asked last minute to bring our own PA. It's a really superb rock venue now. Biker-friendly and, though I say it myself, we went down well. Very good to see some friends there, who had come specially to see us.
Home just after 2am.
---
Sunday 1st March:
A bit of a downer to get a message that Don Powell has suffered a stroke. The indications are promising that it was not a serious or damaging one, thankfully.
Tonight's jam night over-ran by more than an hour, as we were again mindful of getting everyone up who wanted to play. Mixing and matching players can be quite difficult, as some people are basically limited in who they can play with and what they can play. One guy who has to travel some way to get to the jam (for example) just likes to play some laid back blues guitar in A, which makes it slightly difficult to place him with other people for three songs. If we have to come on and play to just accomodate him, that's 15-20 minutes gone and other people then get cut out. We did our best. There was some over-running, which we didn't keep a proper grip of, but you can't stop someone, mid-solo. We told one band (who took ages to set up their effects pedals and tune up) that they had done all of their four songs, so their time was up, and the singer asked the crowd if they wanted another. How do you contend with that? First time there, so we let it slide. It ate into time, though.
Then I saw a guy we know called Glen leave, carrying his guitar case, right at the end of the night and I realised we had somehow missed him out. I had seen him there, but I hadn't even seen him turn up with his guitar. Bollocks. We can't win. For me, the jam night can be an utter headache. I tend to always worry about the one person that we missed out, because other people wasted time, or over-ran.
Speaking of the jam night - it is moving home for three weeks as we were told the venue would be closing for work. Now it isn't. We arranged to play somewhere else for those three weeks.
We'd want to keep our jam night crowd for those three weeks, so we hoped our regular venue would be putting a normal act on, instead of a jam night, for the people who did show up in our absence. As we were leaving. the landlady asked us who we could think of, as a jam night act to cover in our absence... I think our mates Medusa will end up covering.

We want to keep our jam night as it is and where it is, despite a very tempting offer to take it elsewhere for more money, as we have worked really really hard to build it up to what it is. We like to be thought of as being reliable, organised and having proper loyalty to our venues.

Apart from next week's Sunday jam, it's a weekend off for the band. I am wary of overdoing it and us getting 'burned out' as nearly happened at new year. Ian, our guitarist, hadn't realised this and he looked a bit disappointed. Graham is taking the opporunity to slot in another reunion gig with Shabby Tiger that hasn't been publicised at all, that I have seen, anyway. Not an issue.
---
Monday 2nd March 2020:
An amount of writing work again. A long soak in the bath with a huge thick book about 10cc. The days seem to all mesh into one at the moment. I need to find a few things to do that break up my week. I have Thursday lunch and Friday morning in college, but need to find more pastimes. Lynda is still whacked after her operation. The bruise on her leg, (where they went in with the catheter and the mesh piece to block the hole in here heart) is a sight.
---
Tuesday 3rd March 2020:
An amount of writing work during the day. I am updating THE NOIZE with bits that I can find that are going to be valuable addtions to the book. An amount of stuff that I am finding is getting ignored, as it duplicates content that is already in there.
I have another book project that I keep dipping into and working on. I have to make up my mind about whether it's actually going to come out or not. That decision will come when it is a bit more complete.
TV later on. The Good Doctor is one of the best shows on TV, with a tremendous cast, beautifully written and paced, dealing sensitively with the daily life of an autistic resident surgeon on a small and competitive team, with his behavioural and emotional issues. His team mates all have back stories and problems, too. Shaun Murphy has occasional little triumphs and roadblocks in his life and I really could cry for him at his high and low points. His current issue is his close, but platonic, friendship with the seriously-sexy Lea, who he uses as a sounding-board for thinking through some of his problems, which upsets his girlfriend Carly. The Shaun - Carly relationship is not without loads of problems, as Shaun is not the easiest person to be in a relationship with..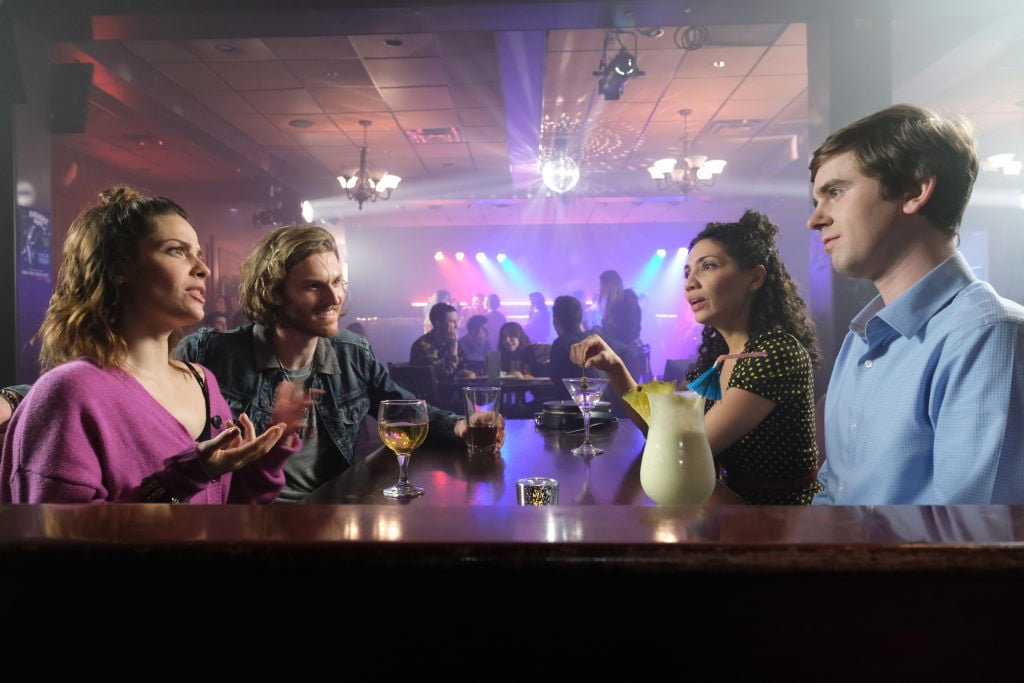 A good article about The Good Doctor is here. The Shaun and Lea situation is examined here. I think they are really good friends who look out for each other, but Lynda says I am sometimes a bit thick and miss a lot of obvious stuff. I'm shallow and I guess I'd just go for Lea. Lea would probably freak if Shaun started to try to get a relationship going with her.
Meanwhile, Inside No 9 (created by some of the 'League Of Gentlemen' team) is one of the best shows on TV. Tonight's episode had a real twist in the tale and dealt with a multiple personality that turned murderous.
Bed stupidly late.
---
Wednesday 4th March 2020:
Up early (for me), considering how late I went to bed last night. I got the car off the drive for Lynda to drive to look after our friend's cats while she is on holiday.
My mate Chris, who I did the Slade book with, has been talking to Don Powell today. The update Chris got about his condition, after his stroke, is a big relief, but I will leave such news for proper statements via his own website.
Lynda came back late morning and after lunch, we went to my stepdaughter's place in south Manchester to see her and her baby son, Jamie. Lynda and Susan don't have the easiest relationship and it doesn't take much to set one of them off. We took a couple of things for Jamie and Susan's parting shot was that we don't really need to take stuff for him and she gave us one of the things we had taken with us back. I was utterly speechless at this. It is not what normal people do. Lynda went into a dark mood for the rest of the day.
After our evening meal, I fell asleep on the sofa. Lynda started to get ready to take the dogs out and Oscar wouldn't go to her to have his harness on, so Lynda just set off determinedly with Tom. I put Oscar's harness on and tried to catch them up, but Lynda didn't wait and I didn't have a coat on. It was freezing. Oscar got the short walk and Tom the longer one. Lynda went straight to bed when she came back in, as she is not recovered from the debacle at ther daughter's house. I was now wide awake and my planned early night was now destroyed.
---
Thursday 5th March 2020:
Bed at 1am, after catching the last few days scribblings of this blog up. I had lunch in town with Steve and Mike. Lynda went cat watching in the afternoon. I watched the first episode of the brand new 'Better call Saul' series. Went shopping to Tesco for beer and stuff as my studio fridge is empty. Promptly fell asleep after our evening meal. Caught some TV up in the evening - including the first episode of The Stranger from Netflix.
---
Friday 6th March 2020:
College in the morning. I got a call while I was in class from Graham about the three nights we are taking the jam night elsewhere. We have decided not to upset the landlord that we are going to for the three weeks, as he has gone to particularly great lengths to accommodate us.
Being the rock star that I am [laughs], I got home and trimmed the holly bush at the front of our house, potentially in full sight of many of the ordinary non-rock star people who also live in the area where I live. You see, I have that common touch. *
Lynda has lost her reading glasses, so we nipped into Bolton and bought some more from the pound shop. Even more mingling with real people.
No gig this evening. TV and a relax were the order of the day. Watched the second episode of The Stranger - filmed in Bolton, Stockport and Bury - I recognised several of the locations.
* = Tongue firmly in cheek
---
Saturday 7th March 2020:
A bit of a lie in after a tiring day doing nothing, yesterday. Shopping and TV. Stayed in, in the evening. I was looking for where Graham was playing, it turned out to be a secret gig in the North East, so I couldn't have made it. Jam tomorrow, which I am a bit nervous about, because of the scheduling kerfuffle.
---
Sunday 8th March 2020:
The jam over-ran by some time. A nice, relaxed evening. All is turning out well with Wigan rockers Medusa covering in our absence. We usually get them to cover when we aren't doing it anyway. The one time that we didn't use them, we used another local band, Riff Raff and they let the venue down, so the venue closed for the day. Absolutely appalling. I haven't recommended them to anyone since. Our drummer Graham is going to be taking a little time out from the band for health reasons, so we have to arrange some cover. I hoped we would do a few together to finish the jam night off, as it's going to be a while before we all play together again, but the other Ian had "his lazy head on", so we didn't. Got away at 11pm, after a chat with the landlady.
---
Monday 9th March 2020:
Starting divvying up the drummer cover. We seem to have a couple of weeks where we are going to have to draft in someone from outside of our pool of three reserve drummers. Stress.
Current listening is still Supergrass. Lots of it.
---
Tuesday 10th March:
Equator day, as Sparks fans will know. Spent most of the day relaxing. Went with Lynda to check over a friend's cats while they are away. I've been with her a couple of times this week. Lynda's reading glasses have turned up, under a bed, where she was trying to find one of the cats. She's quite tired. I think her operation hasn't exactly set her back, but she is feeling the effects now. She went to bed quite early and I went quite late. We seem to run of different shifts. Got some lovely video of Edward and Baby playing today.
---
Wednesday 11th March:
Up at about 10.40. Slack living. I had physio today at 3.30pm. I haven't been doing the exercises regularly as I have had quite a bit of shoulder pain. Did them this morning, watched by Tom, and at least he didn't bark at me. Sometimes he does, as he probably thinks what I am doing is a bit scary.
Went with Lynda to check over our friends cats - all of them seem perfectly ok - and then a dash to Asda in Farnworth. From there striaght to the hospital, for the physio appointment. The way the physiotherapist played me like a violin.. We agreed my shoulder problems can't be rectified by surgery, as they will keep occurring anyway. I need to keep up the exercises and then move to a stronger band to do them with. It was agreed I could self manage these exercises, so he discharged me.
I got the bus home and then sat down and dealt with the horrid aftermath of a post that is up on Facebook about the jam night. A friend has posted, announcing that his band will be covering the jam that we normally do - as it is 'now back on' - and then misled the readers as to which area we were playing in and said it was great news except for us setting up elsewhere for 3 weeks. It was a bit insulting and condescending, whether it was deliberate or not.. He then told people that the Corona virus was rife where we were going to be. I counted to 1000, cooled down and corrected where we will be playing for the next three Sundays.
His own drummer told him it was rather a bad post. Lots of people got confused by it.
I asked him politely to take the post down and to do another one.
He said no.
My drummer Graham saw it, flipped out at what he saw as a set of digs at us and then righteously tore him a new arsehole, telling him the facts of life.
Again, he said no to removing the post when I asked , digging his heels in.
He was fuming. So was I.
A bit of to and fro went on from there and my heart just sank...
I again repeated my polite request for him to take the damaging post down.
He said no once again.
Then HIS guitarist (who he will listen to) saw it and he went nuclear.
So, THEN he thought about it and took it down.
I then put up a statement of events that was factual and polite, considering the strained circumstances and the fact that I do not like airing band business in front of people who have no reason or need to know that business. It was also the venue's business that was being discussed and I thought that was completely wrong:
"STATEMENT : Due to another recent post, elsewhere on Facebook, which contains an amount of disinformation and which also is causing a fair degree of confusion and annoyance, we have been asked if Bar One Ten is closing, if it is being sold and a number of other questions.
WHAT IS ACTUALLY HAPPENING: Bar One Ten is adding food to the services it provides and it will - at some point soon - be changing its name. There are NO other changes taking place. They are NOT closing down.
The mention of 'closure' probably comes from when building work was scheduled for a 3 week period in February, which was delayed until mid-March, because of movement of builder schedules.
Karen at Bar One Ten has tried her very level best to keep us fully abreast of these changes, as soon as she has become aware of any developments. Thanks.
We arranged to move the jam night for those 3 weeks in March and the owner of The Hulton Arms in Over Hulton very generously moved a number of other acts and events round in his venues to accommodate us. Thanks.
The 3-week closure for work to be undertaken at Bar One Ten in March was suddenly cancelled, but we have reasoned that we are honour-bound to undertake the move to The Hulton Arms, as it would throw the owners other venues and acts into a degree of chaos if we reneged on our arrangement.
After some discussion with us about whether they would host a jam night or not, Bar One Ten are booking the excellent Medusa to cover the gap that has now arisen.
The Three will therefore be playing our jam night at:
THE HULTON ARMS, OVER HULTON on March 15, 22 and 29.
BAR ONE TEN, TYLDESLEY on April 5th onwards.
The intention is that the jam night will be entirely 'business as usual' from April 5th.
We sincerely hope that this clarifies matters for everyone.
Our jam night schedule is in the photo attached.
We hope that people will support both of the jam nights."
I shouldn't have to waste time clearing up messes like this. If this continues, it will make our position untenable and we will re-think doing the jam nights. We will not go back to a stink about this whole thing.
I had a couple of Coronas with my evening meal, regardless of the obvious risk*, clambered over about 1000 toilet rolls stacked in the hallway* and shifted boxes and boxes of hand sanitiser off the sofa* and caught up with some TV. The Good Doctor progresses nicely. Shaun has told Lea that he loves her. She walks out, leaving Shaun confused - and the way clear for me.
Lynda went to bed early again, as she keeps getting exhausted. Mind you, she gets up pretty early most mornings. I walked the dogs around midnight, once the slashing rain and high winds had subsided, tapped out this entry and got to bed before 1am, as I am pretty shattered too.

* = only joking.
---
Thursday March 12th:
I met Mike and Ged at lunchtime and we had a nice hour. Then off to Tesco to get some dog food.

TV in the evening. Lynda sacked it off and went to bed early. Her throat is getting sore and she's tired out.
---
Friday March 13th:
I woke up thinking about Graham and his operation today and then I spent a lot of the day coming back to it. Without going into what his actual condition is (though he has told some people, so it is not a total secret), it's a big deal for him.
College. We did portraits today and I kicked myself for not taking a guitar along with me. I felt a bit foolish posing without one, even though I tried quite hard not to feel totally self-conscious and did my best 'Mr Catalogue man' poses. A rewarding session. Only one photo of me got put up on the students forum. I just mustn't be very photogenic. Must be the double chin. I can't put the photos I took of other people up, unfortunately - as what happens in College stays there. I think I got a few good ones.

WAITING FOR THE BUS TO COME
Photo by Hayley (Thanks)
I went to do a quick shop at Tesco after college. The locusts have comletely emptied it of toilet rolls. Why? Off to Maureen's to look after the cats. They are back home from Cyprus tomorrow. Ken and Maureen, not the cats.
I got a text from my GP surgery telling me not to expect to be able to attend face to face, as they are keeping the appointment slots to a minimum. No change there then. My surgery don't like anyone going in. This set me a challenge, however, and I rang them and successfully booked a (required) PSA blood test appointment for next week. They warned me that it might not go ahead, though. While that's understandable, it's typical of them.
We played at The Black Bull in Haslingden in the evening, with Graham's son Dan helping out on drums. Dan hasn't played with us before - no rehearsal, so, Dan was just like a few of the people who are going to be helping us out, we are relying on the deputy drummers checking our website and taking in what we play from the videos that are on there. It throws me slightly when a song is played differently from what I expect - and I either recover from this or I don't. It was great playing with Dan. he is a lively, forceful and expressive drummer. You can tell whose son he is, when you hear him play. We have given Dan all of the slots that he is available for, as he is quite busy gigging in his own right.
Between the first and second halves of the gig, we got a message (via Dan) that Graham's operation had started at 10am and he had gone into recovery - so his operation went on for something approaching 12 hours. Wow.
The audience didn't spot the join with a different drummer and the landlord came over, clutching his diary when we had finished. He hadn't realised that we had booked gigs with him through the year, until I told him.

Dan needed to get away pretty much after we had finished playing and we packed up pretty smartly ourselves and I was home for 1am.
---
Saturday March 14th:
Up at a sensible time, but still tired. My shoulders have been hurting in the night, much more than usual and I have been trying to avoid using strong pain killers.
Dan messaged me to say that Graham had been in touch, with him a bit groggy from the drugs, asking how last night's gig had gone.
My daughter Rachel popped around with April and we all had a lovely morning. We haven't seen April for a short while at ours and she was in a really good mood and enjoyed the cats and their toys.

Our evening gig was at the refurbished White Lion in Heywood. They have done a really nice job on it. Still not a great deal of room for the band to set up (better than we find at a couple of places, though), but we can adapt to good sized and to postage stamp stages.
Andy Williams (no, not that one) helped us out on drums and did a quite sterling job, so we are going to be offering him some more slots. Again, when something sounds different, I am quite capable of losing my place in the song and so I missed the first section out of I can't explain and made some comedic errors on a few other songs too. Unusually, the girls in the place were having a damned good boogie down to us. Fun fun fun. One of them asked us if we could play BOHEMIAN RHAPSODY and was massively disappointed when I said no.

Again, we got a speedy pack-up done and were away bright and early and I was home for 1am.
---
Sunday March 15th:
Up before 11.00. Shoulders really painful. Resorted to two Zapains. Caught up the blog for the last few days.
I've seen the first mention on Facebook of a local venue pulling gigs because of Corona Virus. It is one in Leigh that isn't one of our venues, as they mucked about umming and ahhing until we had filled up our diary, so they didn't get us. Some venues will persevere with hosting bands as it can be a good money-spinner for them. Some others will take the opportunity to not have to pay bands. It remains to be seen whether the Government start telling pubs to cease with putting on entertainment. It could be utterly disasterous for a number of pubs.
Personally, I don't know whether it is a great idea to start telling pubs what to do, but if it came to it that we couldn't play for a short while, then so be it. Protecting lives is far more important than some band clattering away on a stage. Plus, I could use a break, if one came along. A few weeks off. Mmmmmm...
I have been posting on Facebook, telling people to bring their own microphones to the jam nights. With all of the hoo-ha about the plague, etc, better to be safe than sorry.
The turnout at the first of our three jam nights at The Hulton Arms was very reassuring. A good number of our brilliant regular players and watchers turned up and stayed for the whole evening. The others were doing the jam back at our old venue. Two more to go and then we look at going back to Tyldesley. Ryan played drums with us and played a blinder. Singers, with one exception, brought their own mics. One woman who jumped on someone else's microphone, very much against their wishes. She asked. He said no. She ignored him and just started singing into it. Odd behaviour. Thanks, everyone. Another fairly speedy pack-up and home for 10.30pm after a 9.35pm finish.
---
Monday March 16th:
Up early and into college for 9am. I had stupidly left a 128gb camera memory card in one of the laptops (I discovered it was missing while I was in the actual college class on Friday and thought it would be in my PC at home, but of course it wasn't) and when I went and looked through the laptop safe in the classroom, it was still there in the laptop front slot from the class a week before. That was really lucky. A guy in the class that was taking place said he had seen it the previous week (but apparently he didn't have the wit to think to hand it in to the office). Phew. I do keep regular backups, but all the same, a 128gb SD card is a bit expensive to lose through such dumb carelessness. I ordered two smaller Ultra SD spares over the weekend, just in case the original card didn't turn up. The cards now all have my name on them.
A quick nip to Tesco. All the paracetamols are gone. All of them. Called in Asda and their supplies were not quite as ravaged. On the way out, I found a set of keys on the car park, so I had to troll back to their customer services. This daft panic buying of bog rolls and anything else is REALLY irritating. The Amazon delivery lady tells me that there are 3 confirmed CoronaVirus cases locally, so she didn't need me to sign for the parcels.

In a moment of madness, I have arranged to part with this rather lovely guitar tomorrow. I think I might just regret letting this one go.
I got a message on Facebook about Boris Johnson being on TV, telling people to stay out of pubs.
So, off I go downstairs, to have a look at the news on TV.
Then my landline phone rang, upstairs, while I was just sitting down, trying to watch it.
It's my idiot ex-roadie, asking if I had seen the news, that's on right now?
"No, my phone went, so I had to go back upstairs, away from the TV " I said.
"Oh that would be me", he said.

Give me strength.

He says we are basically not allowed to go to the pub.
(Well, that's my Thursday lunchtimes fucked forever then... )
I don't think this is right, but before I can say so, he asks me "If you can't work, are you going back to work for DWP?"

FFS.
He thinks I can just walk back into the building, sit at an empty desk and start paying claimants.
What colour is the sky on his planet?

My other mate has said that if he is issued with a taser, he will go back to work for the Police.
If I am issued with a taser, I will go back to work at DWP.

Unless BoJob makes this going into hiding compulsory, or if a venue decides to cancel, we currently assume that we are playing.
TV and bed.
---
Tuesday 17th March 2020:
Up very late (12.30), as I woke up around 9am with a blinding migraine headache and decided staying asleep was the best option. The world is going into lockdown around me. Some Hospitals have stopped visiting.


Our venue for Friday night is deciding whether to cancel us or not. I said "Tell us on Thursday." I can't blame anyone for putting safety first. Some nights off from playing do not really concern me. The band are going to carry on playing, as long as the three of us onstage are fully fit. However, we would naturally also expect our audiences to be sensible and to stay home if they had lurgy.

I am pushing the no microphone, no getting up to sing policy at the jam night, as it seems the best way forward. Last week, all but one person brought a mic. She still jumped onto a vocal mic after asking and being told no. That will NOT happen again. She will be told.
I took my Telecaster into Manchester and Michal, who sometimes attends our jam nights, is now the pleased owner of it. Gave him a lift back home afterwards and enjoyed the traffic jam on Mancunian Way on the way back- but the roads and the motorway were ok after that.
Some TV and a bit of Facebook work. Facebook marked one of my posts as going against community standards. Possibly because I called stockpilers DICKS. I do not apologise. Facebook staff are dicks.
---
Wednesday March 18th 2020:
Message from one of our landlords that he is stopping entertainment at his venues, possibly even closing them for the time being. So our gig calendar is affected. Safety first.

Went round Tesco and got a few days shopping done. No panic buying from us, though I did get two large bags of crisps. Lynda says we have lots of chocolate in, so I refrained..
Saturday night's gig is now off. I expect Friday's gig to go, as well. There's no jam on Sunday for us and I won't be going out under current circumstances. I have messaged all of our April venues to check their thinking. I expect more cancellations, at least over April and May.
My college course has effectively stopped, as we can't attend classes. They mention online learning. Right...
Here is the news...


Toffee vodka and bed very late.
---
Thursday March 19th 2020:
Happy birthday to my Mum. She would have been 89 today. We lost her far too early.
No beers today, Mike is self isolating, as his Missus is unwell. All the best to her for a full and speedy recovery.
Graham gave me a ring. It was lovely to hear from him. He is recovering from his operation in hospital and doctors are pleased with his progress. He has had some of the tubes they had put in removed. He is going to be in a little while yet. Only Lesley, Graham's wife, or another family member (one per day) is allowed to visit at present. With the virus / bugs going round at present, visiting is a risky proposition. Graham says he has read people's good wishes on the band's pages and said thanks to people. The internet in there isn't what it could be, so he hasn't managed to give all the posts a like, but he does like them all. He's tired, which is only to be expected and the pain relief drugs sound like great stuff. Graham is pleased that the jam night went well at the Hulton Arms. I told him not to worry about the current concerns over gig schedules. What will be will be. If we don't play for a little while, in the interests of public safety, so be it. He says hello to all his mates.
The music store I was going to go to today in Walkden has closed down. Well, that saves me a trip. I was going to buy a gadget that is the equivalent of an EBow for guitar. I have looked at the prices of these on the net and I am not totally convinced it is an essential purchase, or that I would really use it a lot. Not enough, maybe, for it to be value for money. I had use of one a long time ago and it was great for a track I was working on. How much I would use it, I really don't know. If the band ends up being down for a while, I can do some home recording and then I will probably snap and buy one.
I have to nip into college tomorrow morning, so we will see what happens about this online learning. Personally, I expect it to be next to useless for the purposes of the course, but I am hoping that I will be pleasantly surprised.
Writing this blog, later on in the day, I caved in and bought this. Venues have messaged back, stating they will persevere with bands, unless made to do otherwise by the Government.
Our evening was spent catching up some more TV: episodes of War Of The Worlds, The Outsider, The trouble with Maggie Cole.
On Newsnight, hints were made that suggest that the next couple of months will be totally gig free. I can live with that if it saves lives. I would MUCH rather the decision to cancel gigs is taken out of my hands.
---
Friday March 20th 2020:
I saw in the early hours of this morning listening to the self-titled debut album from the local (Wigan) band LOTTERY WINNERS, who used to alternate at a local jam night week on, week off with us. The album is the well-earned and deserved result of many years of f***ing hard work, which has culminated in their getting signed to Warner Brothers. It arrived the other day and I ripped it onto my PC and filed it away and then forgot to listen to it, as I just can't stop listening to Supergrass.
The Lottery Winnners seem to me - on the first impression - to have adopted a slightly new sound for this album, re-arranging the best known tunes, like their catchy The meaning of life.
The production on it has some strategic oomph to emphasise the big choruses. I probably need to give it a few more listens to get used to it. I've heard a number of the songs before, as they have been used as singles, and one was on their recent EP.
While I say that they have recycled some songs, that is not in any way at all a criticism, as they are certainly all good enough to be on the album and also, most of the people who end up buying their album won't have bought or even have heard those old singles. Now they have their shot, they should use their best stuff.
The album clocks in at 39 minutes (just right for vinyl - and it comes on attractive pink vinyl, if you are that way inclined), and there are 12 rather good pop songs on it, none of which outstay their welcome. More songs would probably have been overkill and there are no ridiculous overblown guitar solos. The album is certainly a result for the band. For some reason, the band are not on the front or rear covers. If you search, you'll find them hiding behind the CD.
What must be really irritating for them is that their promo launch tour has been totally cancelled because of the current virus issues. That is a really unfortunate and absolutely undeserved shitty stroke of bad luck. Hopefully their string of dates planned for later in the year, will come off, so they can properly promote their record.
More about them can be found at their predominantly pink website www.thelotterywinners.co.uk/ - including their video for the song 21, which prominently features our very own drummer Graham thumping away on their drum kit.
I had previously announced our intention to perservere with our own gigs going forward, at least until we were told to stop.
I was seriously starting to consider pulling some dates as the necessary, if very difficult, way forward for us. I was getting more and more worried about safety at jam nights and taking germs home to my wife, who qualifies as vulnerable. While I was thinking about it all and messaging asking the others what they thought about all of this, the Government stopped pubs from opening after tonight, removing the responsibility from me.
We have to hope that it doesn't have to last for too long and that our venues will keep our gig dates in their diaries, so that we can always pick up again and get on with it when this particular crisis is over. In the end though, life's too short, without shortening it even more. Worrying times.
While that was all very rock and roll and all that, I was coming around to really worrying that persevering and playing was maybe not the best way forward.
College today was interesting. Our tutor showed the class some Photoshop techniques, including a couple of tools I was shown but that I never use, so that was quite interesting. Keeping in touch via a forum while college isn't open will work for a short while and we have been given a couple of things to do to keep us busy, but to be honest, getting back in class at some point is what I really want, even if it means signing up for the course again
Third migraine in three days. Partly dietary, partly stress. TV and bed early.
---
Saturday 21st March 2020:
A bit of a nothing day. I woke up wih a migraine, took some tablets and then stayed in bed until late morning. The new songs recordings I was thinking of doing haven't started yet, as I feel a bit too drained to sit hunched over a computer screen, doing drums and keyboards at the moment. The Ebow copy arrived, but I haven't even opened it yet.

TV in the evening and bed quite early for me.
---
Sunday 22nd March 2020:
Mother's day. We nipped round to my daughter Rachel's house with the dogs late in the morning and then kept a respectful and safe distance for a chat for a moment or two and then walked the dogs home. Nice weather for it, so we are going to try to do this every day.
Graham is home from hospital. Probably the best place for him at present. Hospitals are full of sick people. He rang me for a quick catch-up which was nice. He sounded a lot better than last time we spoke.
Managed to sort Skype on Lynda's phone for video calling. An achievement.
---
Monday 23rd March 2020:
The much-anticipated recording hasn't started yet. I'm just not in the mood for it. I checked in with my son Paul, who has been off the radar. He's ok. Thank God.
Lynda has started struggling with severe back pain. Possibly sciatica.
Bolton are closing libraries and parks. Not sure how that works with the park opposite my house, or the park we walked down with the dogs to again today. We'll see. I got a text saying my GP appointment is still on for my blood test. I bet they turn me away.
Still ploughing through the massive 10cc book.
I am processing the fact that I'm effectively not going to be a working musician for a while. It leaves me feeling a bit numb, to be honest. I don't have song ideas to work on, on my own. Collaboration is out of the question, as nobody can come here. I feel in a bit of a void, at the moment. Social distancing means I can't find something to replace it and if we get locked down, with just a trip out to buy food allowed, well.... It just leaves me nervous and depressed. I know it has to be done and I am not rebelling against it. I am sure lots of others feel just the same.
Is the band going to re-start in the same shape as it currently is, or are we going to try to change things up a little? Something to think about. I feel a bit distanced from it all at the moment (like going on a holiday and leaving everything to do with work at home), but as we re-group, I am sure I will get more back into the band frame of mind.
A long bath.
Lynda had given up to her back and had gone to bed when Boris Johnson spoke to the nation at 8.30 and basically told us to stay home, except for one walk a day to exercise. It doesn't put me out at all, as this is what we are doing, anyway. He delivered his speech in a very calm way, but you could see that all the crowds of people heading out for nice days out at the beach, treating this like it's just a day off work is really winding him up. He can't just say, "Don't you stupid people realise that you are going to kill each other?" as that is not what a Prime Minister is supposed to say. Watching the House of Commons live until they closed, I was impressed at how everyone is now working together. No party lines, no political divides, just getting the work done. Makes a change.
Bed very early - 11-ish.
---
Tuesday 24th March 2020:
Up late. 11.15ish. I woke up earlier, but Lynda came back to bed and I just thought sod it and rolled over and went back to sleep.
Lynda's back is really playing her up badly, so I took the dogs for a walk myself. Less bunches of kids hanging around today, persumably, as I didn't see any out at all. They tend to congregate on the local parks, but they were both quiet today when I was on them. Very few people around and I kept a sensible distance from all concerned.
Lynda got a text saying as she is in a vulnerable group, she shouldn't leave the house. Our online shopping comes from Tesco tomorrow. We tweaked the shopping list a little, as we can't get another delivery slot in the next three weeks, so I am probably going to have to make a journey to the supermarket. Lynda has been going to our local corner shop, which has adequate supplies of various things we do need and also they have lots of toilet rolls, not that we need any. We are not frequent fliers in the bog roll aisle at Tesco, but we are ok for them. I worry about cat and dog food, so I made sure we had what we were allowed to order for them.
With Lynda being vulnerable, I don't know how she is going to take advantage of the special opening times for vulnerable people at the local supermarket. Maybe I will have to go down, clutching her Liverpool Heart and Chest Unit hospital letter and wearing a pathetic expression, I dunno.
Looking at Facebook, people are either being rational, in denial, or hysterical about the current crisis (there, I said it.... crisis). I thought back to the woman jumping on a mic at our last jam night and shuddered.

Spoke to a couple of muso mates via messenger. We are all feeling a bit dislocated. My mate Stu is champing at the bit to get at it again, where I am not. I will try to see if I can conjure something up in the studio tomorrow. I am not going to force something out, though.
On TV, Donald Trump is saying he wants to open America up by Easter, as it is too big a nation and economy to be locked down - this is quite an alternative strategy to anything based in reality. New York is struggling to cope with the number of cases they have and lifting restrictions is just going to make the virus spread even faster. But you can't really tell Trump anything. If you did, he would only interpret it in his own utterly bizarre way anyway.
I haven't had a drink for a few days, as I am working hard on not getting a migraine. I am also stopping off the Balsamic vinegar crisps that seem to help set them off.
Lynda went to bed early again (and she's always up really early). Back stopped play. I looked at being in bed before midnight.
---
Wednesday 25th March 2020:
Another mundane day. I still don't feel even remotely like picking a guitar up. Lynda spent quite a lot of the day in bed as her back is absolutely killing her. Apart from walking Oscar and Tom, I caught up an amount of TV. I am working my way slowly through the very last season of The Wire, which is so slowly paced that it is like watching paint dry. The Good Doctor is getting really interesting, as Shaun begins to emotionally unwravel.
He's fantastically talented as an actor. I just get so involved in his struggles.


Here he is, talking about playing Shaun. It makes you realise how superbly talented he is.
Bed extremely late. 2am-ish.
---
Thursday 26th March 2020:
Awake at 9.30am, but I didn't get up til about 10.45. Lynda was up very early, but came back to bed, because of her back.
The fence panels bordering on to the rear of our garden are slowly falling apart. That fence is our neighbour's responsibility. He originally took down the privet fence that divides our properties without even asking us, to put up a wooden fence. We didn't think it needed changing. He did. He went ahead. Sod us.
A few years ago, he was demanding a contribution from us for some new fence panels. We said no. Our neighbour put up a new set of panels, then a set of higher inner fence panels on his side of the new border fence. The fence panels on our side of the divide can't be seen (or presumably maintained) from his side. That doesn't make them our problem. Looking at guidance on this, we can't make him do anything, as it is HIS fence and he can do what he wants to with it. This is probably why he has put the inner panels up. This is stressing Lynda out on top of everything else. Her stress is my stress. Plus, the locking parts are sticking on our UPVC front door.
I am just feeling totally dislocated from everything. I almost feel sick with nerves at some times. I need to get my sleep patterns under control. I'm almost at the point of trying to get my old job back, seeing as there is a crisis with the current immense workload on Universal Credit. Lynda being vulnerable makes that quite a bad idea and I don't think they are in any position to be recruiting or reinstating staff, anyway.
I have just contributed a track to a Sparks tribute CD that is being put together.
I took the dogs out three times today. Lynda's back is killing her still, so off we trotted. Oscar seems less keen on the long walks - and sometimes on the short ones. Practically nobody else was around for the evening walks and not many for the first one, thankfully. Lynda retired to bed early. She's hardly eating.
The Shakespeare pub near me has been named and shamed for having people in after the pubs were all closed down. Someone (not me - I don't give a shit) ratted them out. I did see two guys knock on the door, the other day and say, rather theatrically and at an excessive volume, that they had come to read the electric meters. The person inside asked to see ID (also rather theatrically) and then let them in. Presumably not to read the meter. They should have gone in the back door, like everybody else has been doing. They appear to be losing their license.
I haven't had any alcohol for about a week. I am doing quite happily without it. I wish I could say the same about biscuits and crisps, but I will do better at self-discipline and maybe lose some weight while this is all going on. I shaved this morning for the first time in a couple of weeks. I usually keep it as clear of growth as I can, but I had let it slide. I had this daft idea of growing a beard and shaving it off for my next gig. My neck was getting rather irritated by the beard growth and it just looked scruffy, so off it came. Out went the bin for tomorrow morning.

At 8pm, people went to their front doors and clapped the NHS. The Government should give them a pay rise, but they won't. While the death toll goes up, the NHS are the saviours of the nation and the heroes of our Government. As soon as this fuss has died down, the Tories will go back to year on year cuts and sell-offs. They are still struggling to even get staff masks and PPE.
Before I went to bed, I picked up a bass and a guitar for the first time in a short while. People are doing live internet broadcasts. I'd like to film one song and put it out as a video. I am thinking what to do? Something new, or something I already have a backing track that I can sing and add guitar to? I am not going to just sit on a stool with a guitar and sing otherwise unaccompanied. Nope. The world is not ready for that.
Bed really late.
---
Friday 27th March 2020:
A lovely sunny day that I entered into at 10.30am.
No college today.
Lynda really isn't well. She very much doubts it is COVID19, but her throat is sore and she feels totally drained of energy - possibly something to do with not eating very much.. She is only coughing occasionally. Not very much. We are both dealing with mild colds and such, so it's probably from that. It doesn't mean it is anything more sinister. She wanted us to drive to Cheadle earlier with a swing for her grandson Jamie (keeping our sensible distance when we got there), but I explained that it's classed as non-essential travel and that we'd get fined and she got rather low about it.
Our friend lost one of her cats to a car last night. We went looking after them while they were away and the one that has passed away was very young and a real cute little rascal, but not one to stray too far. That really upset both of us. It's things like this where you can't go put your arms around a friend that show what weird times these currently are.
Boris Johnson has tested positive for the virus. So, that goes to show that it is out to get us all. These prats who think that it is a hoax really need to give their heads a wobble. There are lots of them.
Our black bin (general waste) has just been emptied. Our beige cardboard bin was ignored last week and they didn't touch it this week. Worse things happen. Small things that are just annoying.
Lynda spent most of the evening in bed. After taking the dogs for a walk and having a quick word with Ian, the landlord of the local pub that's quite near to me, I settled down on the sofa with Tom and we binge-watched season 6 of House of Cards. No Kevin Spacey was to be seen, as he managed to disgrace himself and get himself removed from the programme. Season 6 turned out to be the very last run of the show, as a result.
I watched til about 1am, then Tom took up most of the sofa, leaving me uncomfortable and sore and feeling just a bit stupid for not sending him upstairs to get on the bed. But he does keep me warm. What a good dog.
---
Saturday 28th March 2020:
My alarm went off at 10am. I lay there semi-awake with my eyes closed till around 11am. I was warm and didn't want to move.
Took the dogs for a walk with Lynda, who is trying to get past her bad back. We only went for a short walk, to the local shop, I waited outside while she went in for the odd thing - bread and banana milk, etc. The shop are allowing 4 customers in at a time and one in, one out. Very sensible.
I watched the last couple of episodes of House of Cards and it ends really suddenly. Wow. You could see the series winding towards a final conclusion, with everything wrapped up. It didn't end on the congratulatory note I expected, with Claire Hale sitting aloft in total control of the Presidency and all her foes vanquished, or dead. The episode ended and I was looking where the next episode was - and there just isn't going to be one. The ending leaves a lot of questions to be answered, which is both a good and bad thing.
I have been trying not to think about where the band should be, but we were booked at The Duke Of Wellington, Lostock this evening. One of our favourite gigs. I have had the odd contact with Graham, but nothing with our guitarist Ian - but then again, we don't just natter very much for the sake of it between gigs, anyway. I posted in our Facebook chat group, so we have started talking.
Tom keeps following me around the house and whereever I settle for a moment, he curls up next to my feet. Very devoted. He displays visible separation issues if Lynda goes out, getting up on the sofa and looking anxiously out of the window 'til she comes back.
I gave Oscar a slightly overdue bath. He now feels lovely and fluffy again.
I posted some more pages from my autobiography on my 'A Glittering Career In Music' auto biography Facebook page. The Kerbcrawlers period is covered in full. I missed a bunch of pages out, which cover the period when I was with a very busy 60's / cabaret band, because I parted whilst on very bad terms with them and I don't think that that part of a strictly limited edition book is suitable subject matter for Facebook. I have had enough threats from them in the past already. It's all water under the bridge now, but there's no need to pee in that particular stream again. I also missed out the Roadrunners pages, because there's no need to rake up bad feeling from the end of that band, either.
Speaking of that book, I got an email from the drummer whose name pointedly doesn't appear in the book. He was sorry to hear about my cancer issues. He clarified the removal of his name from my YouTube videos, by saying he didn't feel that his performances represented him as he is now. He asked about meeting up when the current crisis is over. I responded rather non-commitally, saying we'd have to see how long this went on for.
Finished the 10cc book. Had my first bottle of beer in about a week. Corona.
Bed late. We managed to get a 'click and collect' spot for shopping on April 17th, which reduces the need for us to go out anywhere, near people in the meantime. We have to go to Tesco in Little Lever to pick the shopping up. Not quite the end of the world. Ten minutes each way in the car. I want to avoid the supermarkets in Farnworth as much as possible.
---
Sunday March 29th 2020:
Up late, as the clocks went forward an hour today. But I was up late anyway, regardless. I slept back upstairs again last night, as the night before, spent on the sofa, was so uncomfortable. My first job on getting up was some coffee. The milk had gone off, so, off I went to the corner shop. I'm so glad they were open. The people who run it are really nice and it was good to nip in and see people. Bread (well, 4 barms) and milk. Then back home.
I spoke to my son Paul. He is working away next week, somewhere North of London. He will probably be staying in a Holiday Inn. He reassured me that he's taking proper care of himself and that, seeing as everyone will be carrying a chainsaw at work, they will be keeping a sensible distance from each other. It is, of course, my job to worry.
I spent a lot of the afternoon on my current writing project. It is going very slowly, by my standards. I could probably get a lot more stuck into it, but I am trying not to just live on the computer. I don't want headaches or eye strain.
I have ordered a keyboard stand, so I can do some computer music sequencing work.
It's been announced that an NHS consultant from Derbyshire has died from COVID-19. The NHS staff should be issued with proper personal protective equipment as a priority, or this is going to happen more and more. Such sad news.
We are probably looking at (at least) 13 weeks of the extraordinary measures that are currently in place. Some utter fools are still pretending that there is nothing wrong. They will just make this isolation period run for a longer time. I think it is beginning to sink in with some people that this is serious, but it is taking time for others to get it. there are some flat-Earthers out there who think this is all a hoax. Imbeciles.
---
Monday March 30th 2020:
Up late again. Some TV during the day. A bit of dog walking. I am struggling with watching any news updates on the virus and the numbers involved - it makes me get very jittery indeed. I went to bed quite early but was reading for a good while, while Lynda did battle with getting a slot for online shopping. Online shopping for food is our current obsession.
Alan Merrill from The Arrows has succumbed to the virus. America seems to be waking up to the facts now and Trump is now advising caution, arther than saying it's not much of a problem.
---
Tuesday March 31st 2020:
Bed was warm, so, even though I had resolved to get up with my alarm, I snoozed it a few times. I did venture out in the car to go to our GP surgery to put in Lynda's prescription and to drop in a prescription request for myself for some pain killers (through the letterbox by the front door, you can't enter the surgery unless some bit of you is falling off). The pharmacy was open, so I bought Lynda some Aspirins. They allow two people in at a time. I didn't see the notice and being person #3 to enter, I got some stern looks when I went through the door. You can't see in through the door anyway, so I was bound to get the stare. They are very good at that at the Stonehill pharmacy. The shop floor is marked with tape in a grid pattern, to make people stand well apart. There's a lot of "Get behind the middle line" going on, from the counter staff - who are quite brusque at the best of times, yet the counter staff hand you coins without having any gloves on. Not a lot of cars are out on the road. It was good to drive a little. I was worried about getting stopped and being asked where I thought I was going.
A turning point in The Good Doctor?
Time to get things done:
While I was talking to Chris, who I did the Slade book with, I sent an email to Jim Lea of Slade's brother Frank, asking if he would see if Jim wanted to do a Forum Q&A to tie in with the release of his Biographical DVD, which comes out later in the year. While I had Chris on, I also got Chris to also check with Dave Kemp, who is the other main communication point, about getting this Q&A done. This led to some needless and annoying confusion and I get rather disturbed by things. Why the fuck do I even bother? Bed with a headache.
---
Wednesday April 1st 2020:
My alarm went off at 10am and I was up and at it before 10.30am. The morning saw the resolution to last night's problems.

Lynda had a little bit of a bad do on the way to the shop in the early afternoon and her heart was really racing. She got home, looking in a state, but refused to let me get an ambulance, as it would mean her going to the hospital, where she thinks she might pick up the bloody virus. I personally thought she was better getting her racing heart sorted than dying, but I was fiercely over-ruled. She went for a good lie down and seemed much better later on, but I see it as a warning.
Speaking of the hospital, the cancer ward I have a review appointment with next week rang me to confirm that my appointment will go ahead, but it may be over the phone. I told them my GP surgery had cancelled my PSA test as they are not letting people in their surgery (not much different to before the virus, actually). They said GP's should be taking bloods for cancer reviews. I said it makes them look bad. So, I rang the GP's back and I repeated my conversation with Oncology, so they said the new advice, as of yesterday, was to not do blood tests, as the hospital would now do them. Well, the idle fuckers at my GP's cancelled the blood test well before that advice. And everywhere I listen, the advice I keep hearing is NOT to visit the hospital. They gave me a number to ring at the hospital. I have to ring that in the morning, as the line is closed for today, as of lunchtime. My first job for tomorrow morning.
My keyboard stand arrived. I haven't set it up today. I need to sort the cabling first. Tomorrow. I really should write myself out a TO DO list. I have an amount of stuff that I should be doing for college, which has been left in the dusty area at the back of my mind.
Lots of TV in the evening. Finished The Stranger off. Watched a couple of episodes of the Tiger King, which I initially thought was a spoof from watching a trailer for it. It's real. Oh my God.
Bed early, but I couldn't get to sleep for all the cats and dogs on the bed. Still up at 2.30am, doing this blog.
---
Thursday April 2nd 2020:
Up at a sensible time. I managed to sort an appointment for an urgent blood test with the wonderful pathology lab staff. I could have had one today, but happily settled for tomorrow.

Dithered around the house. All of the days are very much rolling into one at the moment. The TV is full of corona virus bulletins, with everyone saying the same thing over and over. It's cheaper than running the TV programmes that they have stored up, I guess. The message does need to be got across to the thickos that they can't just go wherever they want, whenever they want. Those people are now being exposed for what they are.
I am missing my Thursday lunchtime meetings for a beer in Bolton.
An evening of TV, again.
Bed at a sensible time. I finished the book - The Ox - that I am reading about John Entwistle of The Who. It was 100% lacking in any insight into what made him so highly regarded as a bassist, but had plenty of details of his life on the road - the sex and drugs bit. I was disappointed that there was nothing about what a great bassist he was and why, nor much about his songs. I would have waited for a thicker book with that detail in. While the book had lots that I didn't know in it, it also missed out lots that I knew that was important.
---
Friday April 3rd 2020:
Up early, gloved up out and off to the hospital for the blood test. I set off as late as possible and parked very easily. They let me in, once I waved my blood form at the staff on the door and I hardly breathed the whole time that I was there. The person in front of me at the lab counter queue had some COVID samples from patients, which doesn't exactly make one feel better about being there. I had my blood done and was out of there like a shot.
I called in at the convenience store on the way home and managed to polish off a small shopping list, except for onions, which I got from our local shop - the last on their shelf.
The afternoon was spent on the computer, tinkering with a couple of websites, listening to music, etc. Moved some of my studio kit around a little bit, for when i pull myself together to start doing some new recording. I still have no ideas for songs.
The early evening onwards was TV with Lynda. The Nest is turning out to be very good.
Bed extremely early. Started reading Bruce Thomas' book Rough notes. Written so far in a more straightforward and much more easily-readable manner than his book (The Big Wheel) that made him fall out with Elvis Costello (twice). How does anyone casually shrug off an invitation to join Pink Floyd?
---
Saturday April 4th 2020:
Woke up bright and early, totally hemmed in, with Oscar and two cats in the centre of the bad and Tom practically lying on my left shoulder. He is never more than a couple fo feet from me. I went back to sleep and woke up again at 9.45am with what felt like a hangover. Ridiculous. I had one small bottle of Guinness at teatime last night. Got up at noon and went downstairs with a couple of tablets. Told Lynda my head felt like it was in a clamp. Maybe a coffee was not the most sensible way to start the day, but I needed one.
In a sudden fit of activity, I put together my new keyboard stand this afternoon and I've also got a new director's foldaway chair for the studio, as my old chair was falling to bits.
I reviewed the Supergrass Box Set for Amazon and then it was downstairs for TV for the evening with Lynda. Lynda was watching Masterchef, so I put The Kids Are Alright on. I would finally watch the second 'extras' disc for the first time since getting the 2DVD set on release, at nearly midnight.
Bed very late.
---
Sunday April 5th 2020:
Up late.
Facebook reminds me that I finished my radiotherapy, which I had at The Christie in Salford, two years ago today. It's coming up to the fourth anniversary of my prostatectomy - which will be on the 25th. My radiotherapy blog is here. If you have the stomach to read it.
I have a cancer review on the 7th. I live in dread of it all going wrong again, as that means chemotherapy, or simply sitting there waiting for it to take me. There's no more surgery options and I can't have radiotherapy again. If it does reappear, I have been told that it would take many years (probably ten years) before I got any symptoms. That doesn't seem like I would be that old, before I start worrying about going downhill and getting really sick.
I am scared of ever feeling confident that it won't come back, because if I do, it will probably jinx it and then bad stuff will happen (like when I had the 'one year clear' guitar picks printed). I try not to worry, but I am quite good at worrying about stuff - whether I can do anything to change it or not. I'll get the phone call on Tuesday morning, so it will be a case of holding my breath when the phone rings.
I just downloaded the latest issue of the American record collector's magazine Goldmine for free from the internet (here). I ordered a copy of our Slade book - THE NOIZE - for their reviewer in March of last year and their review still hasn't appeared. I imagine if I had taken out an ad (as their emails suggested) they'd have reviewed it. I just messaged the reviewer, Ken Sharp, who I sent the book to, but I don't really hold out much hope of a useful review appearing now. It's well after the event. He kindly replied quite quickly though, saying he will have a word with his editor.
Watched The Who Live At Kilburn 1977. The band thought their performance was scrappy - Townshend said so onstage - but it was restored for DVD and apart from a fluffed line or two and a scrappy ending to one song, they were on great form.
Spent some of the afternoon transcribing a rather old Slade interview for a book project. They talked over each other a lot during the interview, which was a pain in the arse.
My guitarist put a fairly amusing video up. The lockdown is obviously affecting him quite seriously. He is playing a banjo, fer Chrissakes. The comments went mad afterwards.
The evening was spent watching TV. The Nest is taking a dark turn at episode 4.
I walked the dogs and there was a street party going on, on the estate near me. Loud music and someone DJing. I heard a girl say that people were out in their gardens. As long as they were keeping their distance, it's ok with me. I didn't go onto their street to see.
Bed at a sensible time. Lynda tried to get a Tesco delivery slot at midnight, but didn't manage to.
I carried on reading the Bruce Thomas book for longer than I should have. I'll pay for that in the morning. What a brilliant read it is, though!!
---
Monday April 6th 2020:
My alarm went off at 10am. Very tired. A couple of snoozes later and I got up at 10.35am. Just in time for it to start raining. That might keep some of the clowns in.
Reading my Facebook messages, I got one from a chap called Paul Lythe, who was upset that his name wasn't in the thanks section on my Slade website. I added his name onto the list. He did some of the Fan Club interviews, but disappeared off the radar after a short time. He wanted to be thanked, so I added his name. He wasn't one of the fan club people that I ever met, but life's too short.
I borrowed a bed sheet and did some photography for college. I think my qualification from this course will be a total washout and I will end up doing the course again.
I mentioned an advert that I came across on Facebook for fresh fruit and veg deliveries to Lynda. She followed it up and two hours later, this impressive little lot turned up. I was very honestly quite emotional. Lynda has asked them for a weekly delivery. Not much of a day to write about, really, besides the wonderful veg turning up. The weather got a bit better, so I walked the dogs. I read quite a lot of the Bruce Thomas book, then I watched a lot of TV with Lynda. We went to bed quite early.
---
Tuesday April 7th 2020:
Up very early by my current quite slovenly standards - before 9.30am. I got my call from Urology - all clear for another 6 months with a PSA reading of 0.01. A huge relief, but I will be ready to worry about it all again in 6 months. A related appointment I asked for 6 months ago, with another part of the Urology team, never happened. I reminded them about this and basically, with the current situation, I have to raise it when i have my next appointment in another 6 months.
I reckon the CoronaVirus lockdown will be with us until at least September, so there's no real point in me wasting my time worrying about it until then.
Lynda was busy on the computer for part of the day, so I got an acoustic guitar out and recorded this for Facebook.
It was the second full take, done after a few quick camera angle trials. The voice isn't quite as loud as the guitar, but hey, it's not meant to be perfect. It is what it is. I NEVER do live solo acoustic stuff in front of people (not without other musicians backing me at least), so this is an actual first for me, after God knows how many years of playing. I was very hesitant to put it up. For a long time, I wouldn't even play a normal 6-string guitar and sing onstage.
I have just finished the Bruce Thomas book off. A very good read indeed. In case you don't know who he is, Bruce played the distinctive bass on the more distinctive records by Elvis Costello.
Bruce goes through his long and very varied music career chronologically and, I think, quite honestly and evenly. His writing style jogs along at just the right pace for me and he drops in some details that I was keen to know about. He went through early bands that got ambitious and made the move to London with £8 in his pocket and sure enough, that early band eventually broke up.
He played with all the right people, but in the wrong bands (mind you, he supported The Who and and trekked round the USA supporting Elton John), saw some real music legends play and did some incredible things, but without chart success, until he finally answered an ad in Melody Maker, placed by Stiff Records.

There's the fascinating early days. His immense contribution to the classic Costello sound is made clear. The story is gripping. the monotony fo the road is broken by enlightening stories from the road.

He seems to be rather disappointed that Elvis Costello behaves as he does with his long-term band members. Costello seems to be a bit of a cock on the whole and rather a long way up himself. Costello also comes across as rather prone to making sardonic and acidic comments which probably make him feel a few inches taller than he actually is. Costello's behaviour when he - and the Attractions - attended the ceremony to be inducted into the Rock and Roll Hall of Fame was pretty pathetic.

The one time I met him to speak to, back in 1984, he seemed to be pleasant enough and the band seemed to be happy enough in each other's company. The Attractions were total gentlemen. It all came to an end though.
What happened later.... well I suggest that you all buy the book and see for yourselves. He doesn't seem to have any chip on his shoulder and, unlike me, he has not had to change a bunch of names when writing his book. What you read is what it was like. Tell me what the last brilliant Elvis Costello song you heard was? Bruce was on it. A Costello record could be by just about anybody now. Bands? Pffft.
Lynda went to bed early, tired, so I caught up with some more of Homeland. On the computer for a while, with the brilliant music of Supergrass for company. I tend to stay up too late and listen to the last pair of albums a couple of times, then I suddenly realise what time it has got to. Bed late.
---
8th April 2020:
Awake early, so I got up. DPD dropped a parcel off and then Lynda's mate Kay rang the doorbell nice and early for a 'properly-distanced' chat. She works as a carer locally, so we are on her way to and from.
One of Lynda's friends, who works at the hospital and has been dealing with patients with the virus, suspects she may have the virus, because she has a very hight temperature. No cough yet. She's going to be tested. We wish her well. Lynda was utterly disturbed by this all day.
Noddy Holder is trending on Twitter, but Suzan, Mrs H, assures us that he is fine and dandy. Good.
Lynda and I were talking about when the lockdown is going to stop. She's totally worried that it will be done too early and that pubs will start to re-open before the virus has finally had it and it will all kick off again and that I will bring it home to her. She's not ready to die yet.
According to TV, some countries in Europe are already talking about relaxing their lockdowns. The crisis is still escalating here - and it's probably going to snowball in about a fortnight, just in time for the situation to be reviewed here. Madness.
We watched the season finale of The Good Doctor - incredible television. There has to be a fourth season. Filming and writing is currently totally disrupted by the virus. There are far more important things in life than making an incredible TV show.
Looking at the live video I put up the other day, there has been little or no reaction to it. There won't be more.
Bed after 2am. Daft. I blame Supergrass.
---
9th April 2020:
Up before 11am, suffering from last night's too late night and being kept awake by all and sundry during the nightAn anniversary day:
1978 - got together with my lovely late first wife Julie, at a Slade gig at Blightys, Farnworth.
1979 - started work at DHSS Farnworth - a job I had for 37 and a half years.
1992 - My son Paul's birthday.
A lovely sunny day. A distance chat with Kay again.
I spoke to Paul for a while today. I really missed seeing him on his birthday. I don't see him a lot, but I think we will have to make up for that when this virus foolishness is over.
Watched Dirty Harry for the first time in an age. I'm going to work my way through a bunch of Clint Eastwood DVD's over the next couple of weeks.
---
---
---
---