1979
THE DUMMIES
WHEN THE LIGHTS ARE OUT / SHE'S THE ONLY WOMAN (A SIDE ONLY BY JIM LEA)
Released: December 1979 CHEAPSKATE FWL 001 7" VINYL SINGLE ONLY
Re-released: April 1980 PYE 7P 163 7" VINYL SINGLE ONLY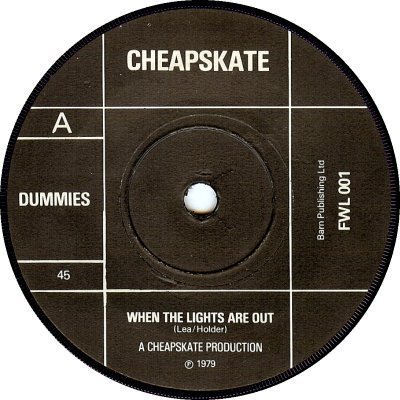 Reportedly put out as a trial single and the result of the curiosity to see what would happen to a Holder / Lea song that was not released by Slade, This was issued in a small run of 1000 copies at a point when the band were in a lull, career-wise. As with most of the material recorded by The Dummies, the A-side of this single was recorded fairly quickly in a 'one-man-band' fashion by Jim Lea with his brother Frank on drums at the Ron Lee Studio in Walsall with Don Powell prviding tambourine. It is a complete revision of the song that was featured as the first recorded Jim Lea lead vocal on Slade's 'Old new borrowed and blue album' and also as Belgian and American singles. It is played in a more driving, tough and direct power-pop style. Whether Jim had actually heard of the term power-pop at that time is uncertain, but he certainly played the song in a style that would place the version right in the centre that music genre.
'When the lights are out' actually picked up some deserved radio plays, but, like several Slade releases at the time, distribution to the record shops was an issue for the Cheapskate label. Subsequently, the single was re-issued on the Pye label, but the track had lost impetus by that time and did not pick up plays again.
Jim has always derided the Dummies recordings as being only of a 'basic demo quality', which may be a little unkind to them. The b-side of this single does not even feature Jim Lea at all. It was a track that Frank Lea had on a cassette tape by one of his old bands named Thunder from 1975. The use of other music for a b-side maybe shows Jim's detachment from the record release and business processes at that time. For a very long time, Jim always had to be talked into doing anything outside of Slade, even after he left the band.
---
1980
THE DUMMIES
DIDN'T YOU USE TO USE TO BE YOU / MILES OUT TO SEA
CHEAPSKATE CHEAP 3
VINYL 7" SINGLE
This song was about what happens when the brief spell of pop fame has passed. In this case, Harry Higgins, who sell brushes door to door, but had a number one under the name of Rocky Jones. Not without humour, one of Noddy Holder's better lyrics. Jim's daughter Bonnie graces the front cover, while his wife Louise helps out on backing vocals. Jim turns in a creditable lead vocal and the backing track is just great. The song actually made it to a solitary TV appearance. Radio again liked it, but not enough for it to trouible the charts. But I'm sure Jim knew he had made a fine record. A surprising gently ska-feel reprise of the Slade song 'Miles out to sea' was on the b-side.
Though the single didn't sell massively, it was felt that it deserved another shot, so in 1982, it was reissued as if by another band, re-titled and coupled with another b-side. It beggars belief that Slade never touched the song.
Upon release, Record Mirror commented: "A creditable stab at formula rock/pop and if it didn't have so much competition this week, I'd give it a better chance."
---
1981
THE DUMMIES
MAYBE TONIGHT / WHEN I'M DANCIN' I AIN'T FIGHTIN'
CHEAPSKATE CHEAP 14
7" VINYL SINGLE

This single couples a new Holder / Lea original with another fairly recent one. 'Maybe tonite' is vaguely reminiscent of The Motors single 'Forget about you' in that it is a nicely paced, smooth piano driven pop song. Noddy Holder pitches in with backing vocals on the chorus. Slade could have done a nice job on this song, but it was another like 'Sign of the times' and 'Rock and roll bolero' that was not really what people were expecting from Slade, so it was maybe perfect for a Jim Lea release... or a Dummies release, anyway.
Seeing as the Six Of The Best EP had sold poorly, Jim probably thought it an idea to do yet another version of the song 'When I'm dancin' I ain't fightin' on it's b-side. It also turned up on the 'Slade alive at Reading EP' so the song got some fair exposure in that period.
---
1982
CHINA DOLLS
ONE HIT WONDER / AIN'T LOVE AIN'T BAD
SPEED FIRED 1
7" VINYL SINGLE ONLY
This is the crafty Speed Records reissue of the 1980 Dummies single 'Didn't you use to use to be you?'
The sleeve for this single gives little or no clue to its Slade origins.

It sold less than the Dummies version (as it is exactly the same recording and radio stations probably felt that they had played the original version quite enough, so the public didn't run out and buy it and fans had it already). It can sometimes command a collectors price, though it is not really that scarce and the record company have had stocks of it. The b-side was a quite creditable version of a song from the 'Whatever happened to Slade' album. Listening to this excellent piece of riff-rock you don't miss Noddy Holder's voice.
---
1982
GREENFIELDS OF TONG
POLAND / POLAND (instrumental)
FIRED 2 - SPEED label
7" VINYL SINGLE ONLY

This single is dated 1982. It became a 'rumoured release', that was dropped into conversations and was said to be 'extremely rare'.

The very name Greenfields Of Tong is deliberately obscure and I have never met anyone who was aware of a single release at the time it was supposed to escape.

It basically contains the two versions of Poland that would later be included on 'A day in the life of The Dummies'.- so if you do have that, there is nothing at all new here for you.

If you don't have that, the two tracks are not much to write home about at all and you should not lose any sleep about them, or feel that you have to part with a lot of money for this single.

No picture sleeve was available and, quite interestingly, only the Shakedown Records label (yet another part of the Trojan group of labels) were ever able to locate a box of these incredibly scarce items of huge desire and were able to supply this newly pricey item to fans.

The Greenfields of Tong name referred to a small countryside village named Tong, located just outside Wolverhampton. In a 1999 Slade International Fan Club newsletter, Frank Lea revealed: "Up home there is a village called Tong and James and myself used to drive through it to rehearsals. Tong is in the countryside – hence Greenfields of Tong. The name was just a bit of fun at the time."
---
1985
JIMMY LEA
CITIZEN KANE / POLAND
TROJAN KANE 001
7" VINYL SINGLE ONLY

In 1985, Jim took what was probably a very large personal step and released a new solo track under his own name, for the first time. Again, this single was released with little or no fanfare through the Trojan group of companies and many fans had no idea that it had been released.

The track is an extremely well-recorded and musically complex piece. Jim splits between spoken word and sung vocals and it's certainly catchy.

The b-side is the mainly-instrumental track POLAND, which features a Jim Lea vocal processed through a vocoder effect (as used on the choruses of Mr Blue Sky). It uses the tune from the 'Return to base' track 'Lemme love into ya'.

The single didn't pick up radio plays and has become something of a rarity. It has not appeared on any official Jim Lea reissue since release.
---
1990
THE CLOUT
WE'LL BRING THE HOUSE DOWN / JIM JAM
MOONCREST JWL 1000
7" VINYL SINGLE ONLY

Back to using a pseudonym, this record was issued only as a very limited promo disc to radio stations (though it is not marked up as being for promotional use only). The Jet label is of course a part of the Trojan group.

A few outraged fans contacted Trojan directly and complained that they wanted to keep their Slade collections complete and were sent a copy. It has not appeared in any other format than this 7" single.

This extremely radical 'house mix' re-working of the Slade hit was mentioned in an interview as having worked on by Slade, but the parts added by the other band membders were not used. Lea performs lead vocals with some further vocal contributions provided by Jackie Rawe, the ex-vocalist of English jazz-funk band Shakatak. The song samples parts of Slade's original studio recording.

The b-side is an excellent bunch of bass solos recorded by Jim. We would hear the words Jim Jam again.
---
1991
The Dummies - 'A day in the life on the Dummies'
Receiver Records
CD RRCD155
VINYL RRLP155

Jim and Frank had all of these recordings from around 1980 lying around. Jim has said that at that time he didn't really want to do anything with them, but Frank won out and got them released on his Receiver label.

In a 1985 fan club interview, Jim said of the Dummies' material: "I've put all those recordings away. They'll never get released in their present form. It's because they sound terrible in comparison to what we could do in the studio nowadays. It's the same as the Specials/Ska sound - it was great at the time but it wouldn't stand up if it was released today."

The album starts with 'Didn't you use to use to be you' and it's a great, powerful, tuneful start to the album. It is followed by 'Maybe Tonite' and a rearranged 'Nobody's fool'. Far more sprightly and beefed up than the original, Jim rushes through it as if he has a last bus home to catch.

There is quite a reliance on old Slade material on this album, with Jeanie Jeanie (aka Ginny Ginny) up next. However, Jim was fully committed to Slade at that point and not writing any material specifically for his own use.

The version rocks quite a bit more than Slade's, which was ruined by an awful keyboard part. This is far more guitar-orientated, as the Slade song should have been.
A tidy version of 'Burning in the heat of love' follows. For me this is quite an improvement on the Slade version, as it was practically impossible to find a decent pressing of that single. It had previously escaped on a double album on Castle label entitled 'Metal Killers Kollection Volume 2'. We are then treated to the song 'Poland' which is a rehash of 'Lemme love into ya' from Slade's 'Return to base' album. Jim uses a vocoder to disguise his voice and make the lyrics difficult to decipher. It sounds for all the world like Kraftwerk are playing it. It could easily be the next track on one of their albums, sequenced straight after their hit 'The model'.
A new version of 'Little Sheila' (just entitled 'Sheila') follows and Jim plays it fairly straight, but most of the cover versions of his Slade songs, it is sped up significantly. 'When I'm dancin' I ain't fightin' follows - slightly ska, slightly bizarre.
'The minute I lost control' is another Holder /Lea original that again escaped use by Slade. This reminds me of 'Dancing in the moonlight' era Thin Lizzy. It is hard to guess why Slade didn't attempt this song.
'When the lights are out' follows and Jim's version certainly takes the song somewhere that the original was never going to go. 'It ain't love, it ain't bad' follows - an excellent piece of riff-rock which should require Nod's voice, but doesn't. Jim does a fine job. The gently ska'd version of 'Miles out to sea' and and an instrumental version of 'Poland' complete the album.
Nowhere on this album is Noddy Holder's voice missed, except maybe by some unimaginative nit-pickers who will not accept anything different from that which they already know. From being the guy who sang just one song in Slade, Jim steps up to the microphone and gives an assured performance. The production is nice and clear, but rather flat and cold, but Jim and Frank play like a band and you can tell what Jim's original vision for these songs was. The album stands up quite well after many years. It may not have changed the world at the time, or have been very much at the front of Jim's mind, but fans bought it and liked it.
Jim mentioned at the time that he had recorded a version of 'I'll never get over you' as originally performed by Johnny Kidd and the Pirates, as well as a re-hash of 'Seven year bitch'. Neither of these recordings have seen the light of day.
---
1994
GANG OF ANGELS (JIM LEA) - HELLO GOODBYE / JIM JAM
SHOTGUN CDBOR 012
CD SINGLE

Another day, yet another pseudonym. One of Jim's better solo singles. Catchy as hell and absolutely made for radio. It is hard to explain why this single didn't pick up radio plays. It is really well-recorded. A couple of gimmicks are used to a really good effect, such as telephony agent voices and phone beeps.

In a 1993 Slade Fan Club newsletter, Jim revealed that he was working on a solo album. It is quite possible that some of the tracks went towards the Lost in space EP in 2018.

Frank Lea described the project as "pure power pop and is the best work that Jim has ever done". He added "Jim is really back in the groove" and has "taken no prisoners" with the project.

We were all accepting that Slade were well and truly dead by this time and hoped that Jim would start to release music regularly and play some shows. We got neither.

Shotgun is another of the Trojan labels.
---
1996
JIMBO feat BULL (THE SPECIALS) - COZ I LUV YOU (RADIO EDIT) / (BULL MIX) / COWBOY MIX)
TROJAN CDTRO 9106
Lea collaborated with Neville Staple, Roddy Byers, Horace Panter and Lynval Golding of the Specials, producing a new version of "Coz I Luv You". The single was scrapped, but t was soon announced that Lea had re-recorded the song with the assistance of Delroy Williams. The X-Specials verrsion would be released around March-April 1994 under the artist name Jimbo featuring Bull.


---
2000
WHILD - I'LL BE JOHN, YOU BE YOKO / MEGADRIVE / I GO WILD
JET JETSCD501
I'll Be John, You'll Be Yoko is a non-album solo single from Jim Lea under the pseudonym Whild. Released by Jet Records on 14 February 2000, it failed to make an appearance in the UK charts. The song was written and produced by Lea. Frank Lea plays drums.
At the time, Jim told Mojo: "I started getting into the property business, and took a psychology course at college. After that I started writing songs again. I'd got friendly with Karl Wallinger and he inspired me to get back into music. I've done this single as Whild - which some say sounds like Oasis. There are no machines on it; my brother plays drums. There are a few bum notes in there. It's all sloshing around. Making perfect records is just making dead records. So that's where I am. I'm 50 and the clock's ticking away. It's kind of like, now or never."
In early 2000, it was revealed that Lea had over 65 songs in the can and that an album of new material was a possibility. Later in the year, the Slade International Fan Club revealed that Lea was planning to release an album in March 2001. It was also revealed that he had two albums ready for release; one "very 60's sounding" and another described as "Beatle-ish". However, Lea then had to put his musical ambitions on hold in order to help care for his father, whose health was deteriorating at the time.
We then had a seven year silence from Jim Lea while he dealt with more important things.
---
2007 - 'THERAPY' by James Whild Lea
2016 - 'THERAPY' by Jim Lea
Various releases of the album:

2007


JAMES WHILD LEA - 'THERAPY'


Jim Jam Records (no cat no)
Later sold with limited signed artwork poster.
2008
JAMES WHILD LEA - LIVE AT THE ROBIN

Jim Jam Records - digital download only
2009
JAMES WHILD LEA - 'THERAPY' / LIVE AT THE ROBIN
Jim Jam Records - double pack CD JIMJAMCD001
2016
JIM LEA - THERAPY (2CD with 3 bonus tracks
+ LIVE AT THE ROBIN disc)
WIENERWORLD WNRCD5098
2016
JIM LEA - THERAPY
(2LP with 6 bonus tracks, gatefold sleeve, lyric sheet)
WIENERWORLD WNRLP5099
THERAPY reviewed for www.slayed.co.uk by Ian Edmundson.
2016 was a fruitful year for Slade fans, as far as Jim Lea is concerned. Jim reissued his 2007 'Therapy' album via the Wienerworld label, in association with Pledge Music.

The 2007 edition of 'Therapy' was released (credited to James Whild Lea) on Jim Lea's own independent label and via his website as a limited small run and, despite the addition of a second live disc at one point to try to build some interest, the 'Therapy' album was never really promoted to any great extent and has always remained a relatively obscure release, which is quite surprising, considering Lea's rather impressive background and career with Slade and the quality of the music therein. A large number of Slade fans didn't even know about the original 'Therapy' release, and it only actually appeared on Amazon a long time after release.

The portrait artwork on the front sleeve was apparently presented to Jim in 1976 and the artist remains uncredited.
Jim Lea is characteristically known to be resolutely silent in the press, unless troubled briefly for a handy quote about Slade's Christmas classic, and new reports of his comings and goings are few and far between. He values his privacy greatly, doesn't like the spotlight or crave attention and is loath to say something about himself unless he has something to say. You may sometimes get to hear the odd snippet from the recording studio that he uses to say that he has been in there doing some work. Then you get a couple of years of silence.
Roll on 2016 and the Wienerworld label (who specialise in bringing some really good quality rock releases that are no longer in print back onto the market) announced that the 'Therapy' album is to be given a release on their label. I was not initially too impressed by the idea of this album being made available again, even though it still gets quite frequent plays in my home, in preference to most Slade material. 'Why buy it yet again?' was the burning question.
As the release date got nearer, a Pledge Music page was opened (a standard practice used by record companies to get the ball rolling to recoup initial outlay and to also entice buyers to buy albums with the added attraction of exclusive bonus material). This piqued my interest greatly.
Two sets of exclusive autographed lyric sheets were made available to pledgers, with the proceeds being donated to charity. Signed copies of the double compact disc set were made available. The first limited run of signed CD's sold out and there was some outcry from people who had not been paying attention and had missed out, so some more were made available. And then some more.
The first great thing about the Wienerworld 'Therapy' reissue - now credited to Jim Lea - was the addition of three studio bonus tracks on the double CD issue. The additional tracks were all previously unheard and created great excitement among Slade fans. Anticipation regarding the bonus tracks caused a flurry of conversation on the Internet. Jim Lea even broke his customary silence to give the back stories of the three bonus tracks.

Lea wrote sleeve notes for the CD edition in September 2016 telling the story of the original release and detailing the sources of the bonus tracks. Suffice to say he seems to have a fair number of unreleased songs stored away in various stages of completion.
"On being asked to add more tracks to the album, I managed to dig up a song called 21st Century Thing. It was found on a cassette of demos which had never been worked on. After a short attempt to re-record it, I gave up and put the demo version on the album which seemed to fit the vibe just fine. Then came something from the digital era in the shape of Thank God It's Friday Right Now. Coming up the rear is a pop thrash track Am I The Greatest Now. I am proud of the album and found the public reaction very edifying."    Jim Lea commenting on the bonus tracks.
It's up to you, the listener, as to how you interpret the songs on the album and what Jim Lea calls their 'psychological content'.

Here's my own take on the songs:

The first track, 'Heaven can wait (for those who pray)' is a gentle introduction to the album. The vocal sound is pure Jim, though it's also rather reminiscent of Robbie Williams. I doubt it's deliberate. The song has a Beach Boys 'God only knows' feel to it, which again I doubt is deliberate.

'Big Family' features Jim on slightly low-in-the-mix treated vocals. A great little melodic little rock song, which stretches his voice to its limits - a good performance. He could have done with getting a crowd in to do the background noise, rather than doing it all himself, but that's not a criticism. The strongest candidate for a single. The song was previously released (entitled 'Great Big Family') as a single in Europe by Mama's Jasje.

'The Smile of Elvis' shows that Jim is probably another of these people who believes in the old Elvis myth. He lists a series of old time stars and wishes he was like them to 'become someone'. The vocal is pure David Essex. (Think of 'If I could') The strings – nearly every instrument on the album is played by Lea - hark back to those on old Clifford T Ward albums and are beautiful. Very tasteful.

The list of deceased musos that is 'Deadrock UK' is a stomping song, once it gets going. I'm not sure why he goes on about the UK quite as much as he does, seeing as he mentions Jimi Hendrix, who was an American (though he did die over here). The vocal is mainly spoken word and there are a few cornball rhymes in there (Ghostest / Mostest), but the song ploughs away neatly - carrying a very strong anti-drug message. Subtle mellotron-played Beatles references fill out the verses and give a nice period feel.

'Could God be a woman' sounds like John Lennon's 'Jealous guy' or 'Imagine' in the first few bars, but that soon changes to Jim's very own sound, with a slightly awkward spoken vocal on the verses. The chorus sounds very similar to 'Universe'. Jim goes into deep thought mode and obviously couldn't find a way to sing the words on the verses. The overall feel is orchestral. This is probably the track which will confuse Slade fans the most.

'Go out in style' is the track most reminiscent of Jim's Slade past, as he has largely ditched that style for this album. The 'Wild wild wild' chorus is pure Slade. The song drives along in a similar fashion to some of the early Who singles and is one that Jim has previously given a live airing to. I have no doubt that this song is hugely inspired by The Who - as certain guitar riffs, drum breaks and chord sequences (think 'I can see for miles') are pure Townshend. One of the very best things on the album.

'Universe' is played with a far lighter and quieter feel than Slade's version (which mainly used elements of Jim's original recording) and this more restrained version sounds like it would fit nicely into the soundtrack of a 'Riverdance' show, which is by no means an insult.

'Time and emotion' starts with some nice guitar playing from Jim, with an extremely similar melody to 'We won't give in'. This is the solitary track where Jim makes his bass feature strongly in the background at a couple of points, which shows how Jim probably doesn't think of himself primarily as a bassist any longer. Quite repetitive in its 3.30 time span.

'Your Cine world' is another Jim song in the style of Oasis. Musically and vocally. It simply belongs on an Oasis album. He wouldn't have got away with this on a Slade album. Features the word 'masturbation'. Be warned.

'Valley of the Kings' is nothing at all to do with Egypt. The lyrics are quite light and just deal with moving on from the past and living in the NOW, so the music really does the talking. The melody is great and the song is really well played. If you just let it play you'll enjoy it. The slipped-in reference to 'wondering why' doesn't go on-noticed. The end section of the song is lovely.

'Why is youth always wasted on the young' is (for me anyway) the musical masterpiece of the album. The 'group arrangement' is fantastic. A slow, restrained arrangement, production tricks, excellent backing vocals and a very deliberate, grinding pace really makes this song potent. The lyrics, backing vocals and string arrangement are possibly the best on the album. The slipped-in reference to 'on the outside looking in' doesn't go on-noticed either. The spoken ending is as corny as hell, but with everything else that's gone before it really does work fine. A masterpiece.

'Notice'.
Jim deals with the past and, via a treated, sometimes Dylanesque vocal, lets us know how his wife Louise apparently tried to dump him years ago, but they did stay together and eventually DID get married. Reading the lyrics doesn't make things a lot clearer, but....
'Let me be your therapy' rounds off the album. A slow, chugging song in which Jim basically demands to be the centre of the listener's universe in a whole string of ways. Impressively arranged guitar work. Great chorus, too. Great false endings and a killer last line, too.
This album is not the pretentious package that Jim's occasional interviews at the time made fans feared that they would end up with. Jim has made an album primarily for himself. It is a really well defined collection of great little rock songs.

It in no way tries to be a Slade album at any time, which is the greatest relief. Repeat - It is NOT in any way a new Slade album. Jim would probably visibly roll his eyes with disbelief at anyone who was still living with that sad expectation. If someone else came up with this album, it would possibly be hailed as a triumph. Jim has to live with people expecting every new track to be a new 'Cum on feel the noize' when he doesn't want to do that anymore.

Well worth the wait.
The three 2016 CD bonus tracks are of a matching standard to the rest of the album.
'21st Century thing' is a demo recording that resurfaced when the new label asked Lea for some additional bonus content. A slow, slightly melancholy, reflective, string-driven piece, observing the lives of people around him, with a guitar subtly pushing the VU meter to its limit and a quite decent vocal from Lea. Despite a wonderfully strong melody line and chord structure, it's certainly not a song subject you could ever imagine Noddy Holder having a crack at. Vive le difference.
'Thank God it's Friday right now' is (for me anyway) the biggest surprise of Lea's solo career. Featuring an assured vocal that totally removes the unfair criticisms of his vocal style, it is a sparsely arranged, laid back and soulful track with a lyric about the mundanity of the daily grind of working from Monday to Friday. The arrangement is augmented with female backing vocals and is nothing like I would have expected from him, even during his period in Slade. The only Slade album I could think of this appearing on would be Nobody's Fools – their most varied album, designed for American radio.

'Am I the greatest now?' is Lea at his most melodic and current. He has certainly been listening to some recent music. It again immediately sprang to mind that would have made a good single. Wienerworld chose this as the plug track for radio for the new package and made it available as a download single.

The second disc in the 2016 CD reissue is a mixing desk recording of the highlights of Jim Lea's solitary solo live show in front of a paying audience from 2002 at The Robin2 in Bilston. I was fortunate enough to have been at that show and can attest that the disc is a true and accurate record of most of the songs that were played on that night. There are a few Slade songs in there, as well as some great cover versions - check the track listing - that Lea and Co pulled out of the hat on the night. A great momento of a great evening.

Wienerworld and Pledge Music announced a vinyl 2LP edition of the 'Therapy' album, which consisted of the original thirteen 'Therapy' album tracks, plus the three bonus tracks that were on the 2016 compact disc reissue AND a further three additional bonus tracks.


The album was again made available via Pledge Music with a very limited number of signed copies.
A small number of 'test pressings' were also put on sale.


SIGNED TEST PRESSING, BELONGING TO DAVE KEMP.

The vinyl edition bonus tracks:

'Misty morning light' is a brief, very pleasantly folky tune with a lyric about the girl leaving the singer. A nice surprise to hear something so different to what one would expect.

'I'll be John you be Yoko' is a great, upbeat pop song, with both the vocal and strings quite reminiscent of Oasis at their best and most strident. The singer wants a girl who is just like him in every way possible. The only pop song in history to feature the word 'narcissistically' so prominently. Previously issued as the lead track on the CD EP issued under the name WHILD, Jim probably thought it needed to be heard again. It has stood the test of time very well indeed.

'Dare to be great' is a fine tribute to the bands that Jim Lea grew up listening to. The Beatles, The Rolling Stones, The Beach Boys and The Who. Bands who dared to be different.

On listening to the vinyl edition with a friend, he was quite stunned at what a totally different album it was to the one that he was maybe expecting. This is the same reaction that a number of people came up with at the time of the original release of 'Therapy'. It is an album full of surprises.

The sound from the vinyl is rich and full and the gatefold sleeve with Jim's expansive sleeve notes and credits is a good, informative read. As Jim says, it's time to get some Therapy.

From Wienerworld: 2CD VERSION | 2LP VINYL VERSION
From Amazon.co.uk: 2LP VINYL EDITION | 2CD VERSION


SIGNED DOUBLE VINYL ISSUE OF 'THERAPY'
(Image courtesy of Simon Kimmins)
---
Reviews of the original 'Therapy' album via the Slade mailing list and forum from 2007:
I have listened to this album closely all day at work and most of last night. It is indeed a truly great album. There is obvious some new influences here compared to what he did 25 and 40 years ago. That is indeed a good thing. I do hear a hint of Oasis that is true, but Beatles is a much more obvious influence and so is Queen. Still it does sound like Jim Lea. I will play this album over and over again for sure, much better than the Slade II album (repacked a few times) and also better than his other solo work. In fact his singing is surprisingly good.
Cheers Harald
---
Mmm I sampled a few of the samples and sadly they don't make me interested in listening to the full versions. It sounds to me like Jim is trying to sound like a band that was influenced by Slade. I can't think of their names now but I seem to recall it was a Manchester sound in the 90's. I didn't like that so my reference is probably going to be quite poor. Jon Hinchliffe
---
Greetingz Nutterz, This is great news!!! Thanks Ian for telling us. I just went to the web and listened to the few seconds of music. I dont agree with Jon that this sounds like someone trying to sound like Slade. This is different, except for Universe, which was written by Jim anyway. On the other hand, I dont agree with Jim, since I think Penny lane and Strawberry Fields are low water marks of the Beatles, compared to all the brilliant songs they did. What do you think? We Nutz are fortunate. First reissues of remastered Slade albums. Now Jim's new album. What will come next? ... and Keep 'n' rockin', Sten
---
Jim's new album "Therapy" is now out and his website www.jimleamusic.com is up and running. Check it out. You can also by the album there.

I played the album to some of my friends in the music business and they were baffled. As one said, "I hadn't expected that! I'd thought, yeah, yeah, the retired Slade whiz trying to do one more in his old age, in then the guy brings out this smash album! Goddamn, he's even better now than he ever was with Slade!"

The album consists of 13 tracks, a few rock tunes but mostly ballad-like pop with an orchestral sound. The tracks stem from the same tradition and fond approach to music as Beatles, mostly McCartney I guess, although Jim has an edge and sharpness that McCartney never had. It's a bit as if the British Invasion hasn't quite ended or maybe it hasn't even started, yet, as "Therapy" brings something new to it. Even though you seem to detect a little Beatles and The Who here, a little Beach Boys and Everly Brothers there, Jim tends to surprise with unexpected twists to his compositions, a hint of pop magic sweetness and good solid craftsmanship. I don't know if there's a marked for this kind of music there days, but had it been in the seventies it would have soared the charts. Well, had it had a McCartney-credit stuck to it instead of a James Whild Lea I guess it still would.

The arrangements had my music business friends go bonkers, the instrumentation and playing as well. If I am to say something negative, and I suppose I am, many of the tracks have odd abrupt endings, which make them sound unfinished. It's not quite becoming except for tracks like "Could God Be A Woman" and "Let Me Be Your Therapy", where you really can't go on after the final punchline of the lyrics.

Lyrics-wise "Therapy" seems to be a rather personal and well…therapeutic album. It struggles with inner demons, with the mistaken arrogance of youth, with death, insecurity and loneliness. But it is not depressing at all, oh no. It still has this typical ironic feel to it, that to me is very much Jim. He really has something to say in that Dylan-Lennon-way and it's nice seeing a grown, intelligent man speaking his mind without selling out on the music. Too often you see people neglect the music in order to go Shakespeare, or the other way around, write great poptunes with inane lyrics. Here you have the best of two worlds.

Some of the tracks you'll already know, namely "Universe", "Great Big Family" and "I Wanna Go Out In Style", the latter two being performed at the Jim Jam gig in Bilston in 2002. At the moment my own personal favourites on the albums are "Dead Rock UK" and "Heaven Can Wait", but other highlight are "Let Me Be Your Therapy" and "Notice" among others.

I'll let one of my music business friends have the last word in this rather long review. He said, "If the guy doesn't want to tour, he ought to stick a video camera in his studio, do a tune or two and put them on You Tube. People really need to know about this album, because it deserves to become a massive success."
Posted on Lise's excellent Slade Blog at http://www.bigboyzbignoize.blogspot.com/
by Lise Lyng Falkenberg
---
2008
JAMES WHILD LEA - RE-PLUGGED, LIVE AT THE ROBIN
Originally made available in 2008 as a full set of downloadable tracks from Jim's website, then packaged with a shortened tracklisting as a second disc with his THERAPY album in 2009.
This album is a mixing desk recording of the highlights of Jim Lea's solitary full solo live show in front of a paying audience from 2002 at The Robin 2 in Bilston. I was fortunate enough to have been at that show and can attest that the disc is a true and accurate record of most of the songs that were played on that night. There are a few Slade songs in there, as well as some great cover versions - check the track listing - that Lea and Co pulled out of the hat on the night. A great momento of a great evening.
1. Intro - 1:34
2. Shakin' All Over (Frederick Heath) - 3:37
3. I Saw Her Standing There (John Lennon, Paul McCartney) - 3:43
4. Hey Joe (Billy Roberts) - 5:58
5. I Am the Walrus (Lennon, McCartney) - 3:21
6. Cum on Feel the Noize (Noddy Holder, Lea) - 5:10
7. Great Big Family (Lea) - 4:41
8. I Got You (James Brown) - 3:42
9. You Really Got Me (Ray Davies) - 2:48
10. Far Far Away (Holder, Lea) - 5:34
11. Pretty Vacant (Paul Cook, Stephen Jones, Glen Matlock, Johnny Rotten) - 3:54
12. Over the Moon (Lea) - 3:57
13. Substitute (Pete Townshend) - 4:19
14. Goin' Bak to Birmingham (Lea) - 3:23
15. Mama Weer All Crazee Now (Holder, Lea) - 4:57
16. Wild Thing (Chip Taylor) - 5:17

The album did not feature the encore tracks: "Get Down and Get with It", "Teddy Bears Picnic", "Johnny B. Goode", "Gudbuy T'Jane", "Twist and Shout", and "Purple Haze".
After the 2008 live release, Jim went radio silent again until the 2016 reissue of Therapy.

---
2016
"Am I the Greatest Now?"
Plug track download to precede the reissue of the Therapy album. One of three additional bonus tracks that Jim was asked to provide for the CD version. The label announced possible plans for a full CD release if the single gained enough airplay, however this did not come to fruition.
---
2017
ALL COMING BACK TO ME NOW
WIENERWORLD WNRCDS1001 PROMO CD / DOWNLOAD
Released on Sept 1st 2017.
"All Coming Back to Me Now" had first appeared in 2016 as "All Coming Back", performed by Shelly Bonet. It was included on her album Love in a Dangerous World, which was released in February 2016. Asked by Ian Edmundson about the song, she recalled: "While I was in London some years ago, I got the opportunity to record with Jim Lea. We demoed several of his songs. When I recorded my record we decided to cut "All coming Back". It was a great experience working with Jim Lea!"
---
2017
THE SMILE OF ELVIS RADIO EDIT PROMO SINGLE
WIENERWORLD WNRCDS1002 PROMO CD ONLY
This track features a different arrangement of the song on the Therapy album. For its release as a single, "The Smile of Elvis" was given a remix with some altered instrumentation. Initially, Wienerworld had made plans for the song to be given a full release and a 10 November release date was announced. However, the idea was scrapped, leaving the single to remain promotional only. Promos were circulated in October 2017.
---
2017
FOR ONE NIGHT ONLY
DVD
WIENERWORLD
---
2018
'Lost In Space' single and EP by Jim Lea

Reviewed for www.slayed.co.uk by Ian Edmundson.
| | |
| --- | --- |
| | |
JIM LEA – LOST IN SPACE EP – WIENERWORLD WNRCD 5103 – 2018

This is Jim's first major new studio release of original material of any note since 2007's Therapy album. That album was reissued with a collection of bonus tracks, not much of which sounded anything like his old band. That will have pleased some and baffled others.

This EP came about as Jim was asked to put a collection of tracks for release.

LOST IN SPACE
This version of the lead track on the EP features a much more involved arrangement than on the radio edit promo single and download. It's commercial enough to do well, if it gets the radio plays. Lyrically Jim is having a bit of fun and it's a bit of a word game, relying on rhyming words rather than any theme - as are most of his songs - rather than having any great message. He's quite fond of this track, as it is more of a pop song than the other tracks on the EP. Jim pays all instruments and the strings throughout flesh out the backing beautifully.

Jim said: "Lost in Space was written deliberately as a pop song. Of all the songs I have come up with, this is one of my favourites. The ideas portrayed in the song are of someone spending their life living in an inner world, virtually oblivious to normal life. Some might say I have unwittingly written about myself!"

WHAT IN THE WORLD
This song could easily have been a latter period Slade single, album track or at worst, a b-side. It has elements of songs like I'll be there and Run runaway. However it is lyrically superior to an amount of Holder's later lyrics. It refers to the big party at the Millenium, so you have to wonder when this song actually dates from. All of the tracks on this EP after the title track sound like they were recorded during the same session. Jim plays everything and it certainly sounds like Slade to an extent. But of course musically, Slade was always Jim's baby, so it should be no surprise. The clue to this song's origins may come from hearing the next track.

MEGADRIVE
This song appeared on the WHILD EP from 1999. That EP did not sell particularly well, so the inclusion of such a good song here is quite forgivable. It appears to be the exact same recording and mix. Would Slade have gone in this direction, had they stayed together? It's a driving, rocky, little song, harking back to the feel of Radio Wall Of Sound, with a great acapella section at the end. Jim's singing style on this is a sort of tired croaky drawl in places, which suits a number of these songs.
PURE POWER
Jim Lea goes heavy. This has a fantastic groove and while it's basically a twelve-bar blues, it has a great unison riff that sounds fresh and new. Lyrically, Jim has some fun again. A great chorus. I would personally have picked this as the lead track on the EP. The key change solo section is reminiscent of Slade and ZZ Top. Quality stuff.

GOING BACK TO BIRMINGHAM
This song was played at the 2002 Jim Jam gig (which again helps us to date the song) and appeared on the Live at the Robin CD. It has a great groove, similar in a way to 'Fire' by Jimi Hendrix, a track that Jim must have grown up with. Cracking stuff.

THROUGH THE FIRE
The Hendrix influence is still there. A great melodic rocker. Good lyrics and the ad libs under the guitar solo are pure Hendrix (remember "Move over Rover, let Jimi take over"). If the guitar solo was not up to it, this could have come off badly by comparison, but Jim throws in a great solo.

All of the tracks on this sound like they are played by a band, rather than one man, alone in the studio, which is quite an achievement. Jim's vocal style is far more assured and confident than one may have expected. The playing is concise and disciplined and the songs are all fully-formed. Creditably, for a one-man band, he certainly manages to generate a great live-in-the-studio feel. I suspect that the drums on all of these tracks were put together on a Linn drum or a similar sequenced machine, as no drummer is credited.
This release came about when Jim was asked to submit six songs for an EP. He should maybe have been asked to put forward a dozen and have called it an album.
Single 'Lost In Space' iTunes | Google Play | Amazon Music
Six track EP 'Lost In Space' released 22 June 2018
'Lost In Space' physical CD | download from iTunes - click here | Google Play | Amazon Music 
---
2018
AN AUDIENCE WITH JIM LEA AT THE ROBIN 2
DVD
---